12 V Automotive Smart High Side Power Switch PROFET™ Load Guard BTG7090-2EPL Application circuit for switching various resistive (electronic) loads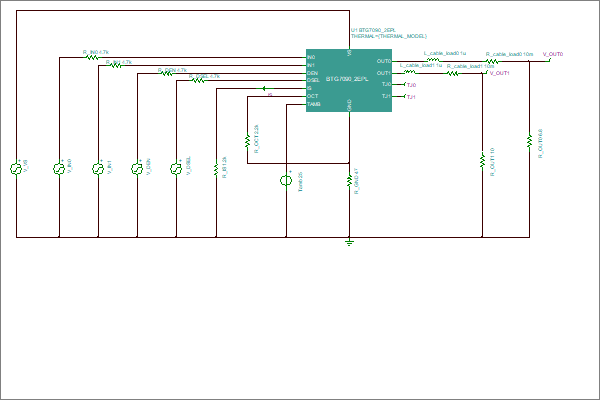 12 V Automotive Smart High Side Power Switch PROFET™ Load Guard BTG7090-2EPL
Application circuit for different switching resistive (electronic) load

Thermal Model description:
THERMAL_MODEL=1: P=1W; T=85°C; PCB type: 1s0p 300mm2
THERMAL_MODEL=2: P=1W; T=85°C; PCB type: 1s0p 600mm2
THERMAL_MODEL=3: P=1W; T=85°C; PCB type: footprint
THERMAL_MODEL=4: P=1W; T=85°C; PCB type: 2s2p
where: P=power injected in chip; T=ambient temperature

"Analysis->Transient: Start - End Display"
- Double click on the green window to enter design criteria
- Click on "Run" and Simulate Transient

The BTG7090-2EPL, as part of the PROFET™ Load Guard family, is a smart high-side power switch,
providing protection functions and enhanced diagnostic capabilities. The product is equipped with
adjustable overcurrent limitation to offer high reliability for protecting the system: In case of a short
circuit to ground, the PCB traces, connectors, as well as loads, can be protected. Furthermore,
the BTG7090-2EPL has a capacitive load switching mode implemented to charge big capacitive loads
and to reduce current peaks during switch on of capacitors. By these features, the device addresses
different use cases for intelligent power distribution (load supply protection, wire protection and power
supply protection) and a broad range of applications.

Body Power Application Overview
Other circuits
Technical Assistance
Smart Switch Finder
Product info: BTG7090-2EPL