12V Automotive Motor Control based on Embedded Power Full Bridge Driver TLE986x/TLE987x - Concept Circuit Charge Pump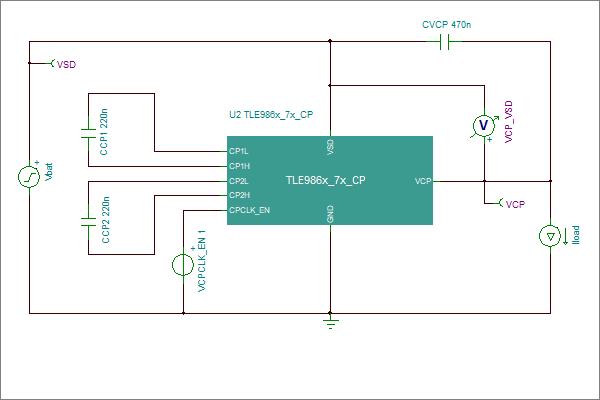 12V Automotive Motor Control based on Embedded Power
Full Bridge Driver TLE986x/TLE987x
Concept Circuit Charge Pump

Infineon has combined its wealth of experience in motor control drivers for automotive
applications with all the benefits of an industry-standard core. The unique result, our 3rd
Generation Embedded Power IC based on ARM® Cortex®-M cores, addresses a wide
range of smart 3-phase brushless DC motor control applications like fuel pumps,
HVAC fans, engine cooling fans, electrical water pumps. The TLE987x family offers
scalability in terms of flash memory sizes and MCU system clock frequency
supporting a wide range of motor control algorithms, either sensor-based or sensor-less.
It uses the same MCU and peripherals as the TLE986x family, 2-phase driver, enabling
design synergies between DC and BLDC motor control applications.

This test bench is configured to test the charge pump reaction to different combinations
of supply voltage and load current. Battery voltage and load current is changed during
time between different levels and with certain slew rates while the VCP output voltage
reached steady state.

Evaluation board: TLE9869 EVALKIT
Evaluation board: TLE986X EVALB_JLINK
Technical Assistance
Other circuits
Product info: TLE986x/TLE987x