.XT interconnection technology
Overview
Discover enhanced system power density and extended lifetime
Global energy demand is poised to skyrocket in the coming years, while at the same time, governments are passing more ambitious emissions targets. Switching to green, renewable energy sources is one important step in reducing emissions, but worldwide adoption relies on the ability to make such systems more efficient, powerful, and reliable.
Infineon's .XT technology offers a solution. This advanced interconnection technology is used to get more power out of the chip. With our unique techniques and advanced components it is possible to achieve higher power density and robustness, while extending the lifetime of the system.
.XT interconnection technology is enabling the shift to renewable energy. With solutions for both CoolSiC™ MOSFET discretes and IGBT modules, .XT interconnection technology is transforming applications like wind, photovoltaic, EV charging, and industrial drives – paving the way for a greener, more sustainable future.
Highlights
.XT for discretes
Implementing smaller form factors while maintaining the thermal performance in a power conversion system are often conflicting challenges, but Infineon's innovative .XT technology combined with CoolSiC™ chips offers a solution.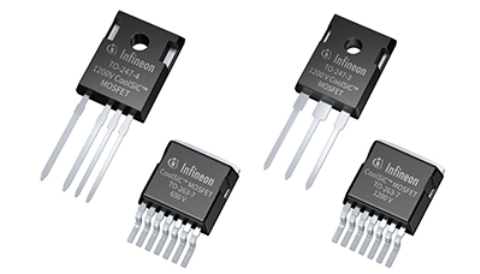 Diffusion soldering for better performance and reliability
CoolSiC™ MOSFETs with .XT interconnect technology for discrete packages uses a unique diffusion soldering process developed by the company that improves the performance, reliability, and the lifetime of semiconductors, accelerating the adoption of energy-efficient systems and clean energy.
.XT technology eliminates the typical limitations seen through standard soldering processes. Infineon pioneered a diffusion soldering process that establishes a very sound thermal connection from the chip to the heat sink via the package. In combination with CoolSiC™, this can improve a chip's junction-to-case thermal resistance by up to 25 percent, by increasing its thermal dissipation capability by up to 30 percent or lowering operating temperatures up to 15 K. It is also possible to achieve both higher current output and lower operating temperature, which not only improves the system output current capability, but also extends the lifetime of the devices.
Enabling sustainable applications for green energy
These features deliver a critical advantage in applications such as photovoltaics, fast EV charging infrastructure, energy storage systems, and motor drives, where performance can be increased in the same form factor. Such advancements enhance the optimization potential further Silicon Carbide-based designs.
.XT for modules
In power modules .XT interconnection technology has been designed for challenging and lifetime-dominated applications, such as wind turbine converters or propulsion converters in traction applications and electrified trucks.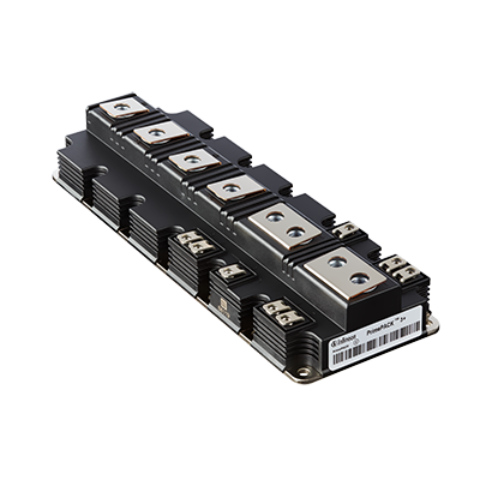 .XT for modules is characterized by improved wire bonding, reliable chip attachment enabled by sintering, and high-reliability system-soldering. These combined improvements of the interconnection eliminate the typical wear-and-tear out mechanisms, like fatigue of the bond wire and soldered chip connection that occur during cycling loads in the applications.
To fulfill application requirements, high voltage modules like the 3.3 kV XHP™ 3 can now support an increased power cycling robustness of a factor greater than 5. Low-voltage modules like the 1.2 kV and 1.7 kV PrimePACK™ or XHP™ 2 modules can even tolerate cycling loads 40 times higher, even at temperatures 25 K higher compared to standard joining technology. This means that modules can support these increased power cycling loads even at temperatures up to 175 °C.
Thanks to this higher cycling capability, the benefits of .XT interconnection technology are numerous.
XHP™ modules meet the latest traction industry standards imposed by the "Roll2Rail" project. With lifetime requirements of at least 35 years, costly maintenance of long-distance trains in rural areas can be avoided.
The same applies for PrimePACK™ modules in wind turbines, which meet lifetime requirements of at least 30 years. Their ability to withstand active cycling thermal loads makes complicated maintenance in on- or off-shore wind parks redundant.
Customers have the choice between increasing power or reducing the number of components, since the .XT PrimePACK™ modules support 175°C operation temperatures. When opting for more power, up to 30 percent extra is possible. And, compared to standard joining processes, .XT does not compromise on lifetime when increasing power.
The other option would be reducing the part count and maintaining the power level, since .XT technology offers a higher utilization factor. This reduction of power modules and peripheral components leads to lower Meantime Between Failure (MTBF).
.XT interconnection technology extends operating ranges, meaning wind farms could be located in low-wind areas and still be able to generate green energy. On top of that, wind turbines can go into silent mode, when located closer to residential areas, increasing the widespread adoption of sustainable energy generation. PrimePACK™ or XHP™ 2 modules with .XT technology can tolerate operation at lower rotor speed without compromising on lifetime, while wind turbine operators can generate more energy per year.
Power modules with .XT interconnection technology are also improving public transportation. In subways, the start-stop ratio can be adjusted for greater passenger convenience. Optimizing the start-drive-stop operating range makes it possible to give passengers more time to board and XHP™ modules with .XT can endure these cycling load conditions without compromising on lifetime.
Infineon wins the Deutsche Innovationspreis 2022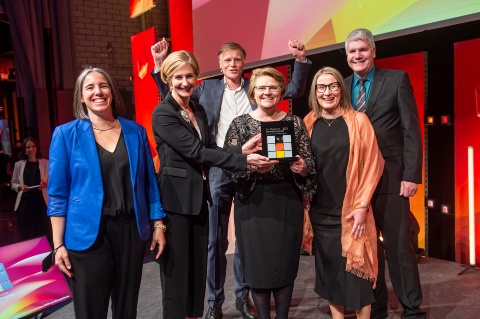 In 2022, Infineon's unique diffusion soldering technique in combination with silicon carbide (SiC) MOSFETs was awarded the Deutsche Innovationspreis by Accenture, the Baden-Württemberg Ministry of Energy, and leading business publication Wirtschaftswoche. The prize recognizes it as Germany's most innovative solution among large companies.
Training
If you want to be an expert of CoolSiC™ discretes and the .XT technology, watch this video!
the history of wind energy and its future challenges
a comparison between standard IGBTs and PrimePACK™ .XT IGBTs regarding their composition and production processes
the solution for wind energy production in locations with low wind speeds