Overview
24GHz mmWave radar sensors - Precise sensing for consumer applications and IoT systems
Radar technology offers unique benefits which are not possible with traditional sensing technologies. Whether you require increased motion detection range coverage for outdoor lighting, an automated door that opens only if someone actually wants to walk through it, or a small form factor solution to enable soft landing in your multicopter, Infineon offers the right 24GHz radar sensors for your needs.
Infineon offers a wide portfolio of 24GHz radar sensors which includes doppler radar sensors as well as FMCW radar systems. Infineon's 24GHz radar sensor portfolio allows you to determine motion, direction of motion, speed, angle of arrival and position of single and multiple targets. Moreover, Infineon's 24GHz radar sensor solutions provide you with the ability to make your sensing applications perform in a way previously not possible.
Infineon´s XENSIV™ 24GHz radar transceiver family offers multiple variants
With the smallest 24GHz MMIC radar sensor as well as the most integrated and largest 24GHz radar transceiver family currently available, Infineon's 24GHz radar modules and sensors address a broad range of customer requirements.
The BGT24 family is the largest and highest integrated 24GHz ISM band radar transceiver family currently in the market, providing a range of different transmitter and receiver channel configurations, supporting different application requirements. The BGT24MTR11 combines one transmit and one receive channel, the BGT24MTR12 one transmit and two receive channels, and the BGT24MR2 two receive channels which enables to add receiving channels in combination with the BGT24MTR11.
In addition to the BGT24M versions, there are also two low-power radar chips. The BGT24LTR11, the smallest 24GHz MMIC in the market, is a low power radar transceiver that combines one transmit and one receive channel.
This 24GHz radar chip is also featured in the DEMO SENSE2GOL PULSE for low-power motion sensing and in the DEMO DISTANCE2GO for low-power distance measurements. The BGT24LTR22 is a two transmitter and two receiver channel chip which enables tracking functionalities.
Low-power motion sensing and distance measurements with our 24GHz radar evaluation and demo boards
Infineon provides a continuously expanding range of evaluation and demo boards to support the testing and development of radar in multiple applications. All boards are provided with documentation, hardware design files, base level software to support ease-of-use, and faster to market integration. The demo kits are supported by the Infineon Developer Center.
If you want to familiarize yourself with the basic principles and functionalities of radar sensing, we recommend viewing our MakeRader page.
Highlights
Coming soon! Infineon's BGT60ATR24C radar sensor for automotive in-cabin-sensing applications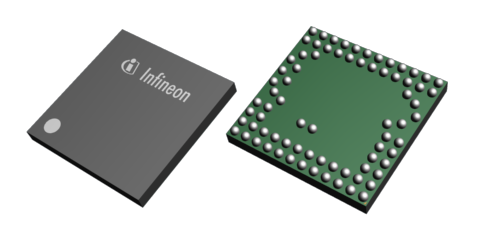 Infineon's BGT60ATR24C has been designed for ultra-short range applications with best in-class jitter performance, ultra-low power consumption, wideband operation and robustness.
XENSIV™ BGT60ATR24C is a fully integrated radar transceiver operating in the frequency band from 58 to 62 GHz. It is a state-of-the art radar chip featuring 2 transmit channels, 4 receive channels, a low noise Phase Locked Loop (PLL), an integrated anti-aliasing Loop Filter (LF), sequencer and finite state machine for ramp generation, integrated RX baseband including Analog to Digital Conversion (ADC), sensor ADCs for temperature and power monitoring – all within a single chip. The digitized time signals are forwarded via the SPI interface to the application controller where they are being processed further.
Find more information in our latest product brief.
Tools & Software
Demo board software and supporting documentation
We provide software and supporting documentation for our development kits, which can be located on the software tab within the specific board pages for Sense2GoL Pulse, Distance2Go and Position2Go.
Infineon's Toolbox supports all platforms with a demonstration software and a Radar GUI to display and analyze acquired data in time and frequency domain. Go to Toolbox.
Applications
24GHz Radar Sensor ICs for industrial/home applications