Overview
XENSIV(TM) - TLE4998P3C linear Hall IC for sensing of high current for battery management, motor control and electronic fuses
The Infineon linear Hall IC TLE4998P3C has been designed specifically to meet the requirements of highly accurate rotation and position detection, as well as for current measurement applications. Two capacitors are integrated on the lead frame, making this sensor especially suitable for demanding EMC requirements .The sensor provides a digital PWM signal, which is ideally suited for direct decoding by any unit measuring a duty cycle of a rectangular signal (usually a timer/capture unit in a microcontroller). The output stage is an open-drain driver pulling the output pad to low only. Therefore, the high level must be obtained by an external pull-up resistor. This output type has the advantage that the receiver may use even a lower supply voltage (e.g. 3.3 V). In this case, the pull-up resistor must be connected to the given receiver supply.The IC is produced in BiCMOS technology with high voltage capability, also providing reverse polarity protection. Digital signal processing, using a 16-bit DSP architecture together with digital temperature compensation, guarantees excellent long-time stability as compared to analog compensation methods. While the overall resolution is 16 bits, some internal stages work with resolutions up to 20 bits. The PWM output frequency can be selected within the range of 122 Hz up to 1953 Hz.
Summary of Features
SPC (Short PWM Code) protocol with enhanced interface features based on SENT (Single Edge Nibble Transmission,defined by SAE J2716)
20-bit Digital Signal Processing (DSP)
Digital temperature compensation
16-bit overall resolution
Operates within automotive temperature range
Low drift of output signal over temperature and lifetime
Programmable parameters stored in EEPROM with single-bit error correction: SPC protocol modes: synchronous transmission, dynamic range selection, ID selection mode,SPC unit time,Magnetic range and sensitivity (gain), polarity of the output slope,Offset,Bandwidth,Clamping levels,Customer temperature compensation coefficients,Memory lock Re-programmable until memory lock
Supply voltage 4.5 - 5.5 V (4.1 - 16 V in extended range)
Operation between -200 mT and +200 mT within three ranges
Reverse-polarity and overvoltage protection for all pins
Output short-circuit protection
On-board diagnostics (overvoltage, EEPROM error, start up)
Output of internal magnetic field values and temperature
Programming and operation of multiple sensors with common power supply
Two-point calibration of magnetic transfer function without iteration steps
High immunity against mechanical stress, EMC, ESD
Package with two capacitors:47nF(VDD to GND) and 4.7nF(OUT to GND)
Automotive qualified acc. to AEC-Q100
Potential Applications
Robust replacement of potentiometers, no mechanical abrasion, resistant to humidity, temperature, pollution and vibration
Linear and angular position sensing in automotive applications such as pedal position, suspension control, throttle position, headlight levelling, and steering torque sensing
Sensing of high current for battery management, motor control and electronic fuses
Productive Programmer @ eHitex
SPEED FLASH-TLE4998x
ED FLASH Production Programmer
SPEED FLASH is a proven universal production programmer. The system was designed to be easily configurable for the programming of different targets. A wide range of interfacing techniques to different targets can be used, depending on the requirements of the sensor or microcontroller to be programmed.
Productive Programmer @ CGS
ISCM-SENT Infineon TLE4998x
The CompactRIO ISCM-SENT (Infineon) module developed by CGS can sequentially calibrate up to 2 Infineon TLE4998x sensors with 2 channels each. In addition, the module can read the SENT signals in parallel on the 4 channels.
Complementary Products
Complementary Magnet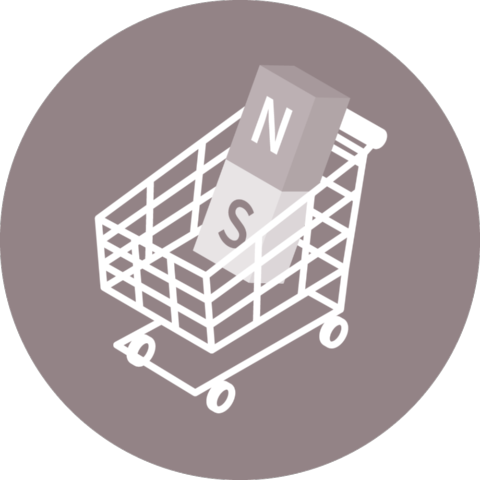 Disc magnet Ø 5 mm, height 5 mm
Ferrite, Y35, no coating
FE-S-05-05

Disc magnet Ø 5 mm, height 5 mm
Neodymium, N45, nickel-plated
S-05-05-N