TLE493D-W2B6 A2
7nA (typ) power consumption
Overview
XENSIV™ - TLE493D-W2B6 A2 3D magnetic Hall sensor offers a small package with low power consumption
Infineon´s 3D magnetic sensor family TLE493D offers accurate three dimensional sensing with extremely low-power consumption. Within its small 6-pin package the sensor provides direct measurement of the x-, y-, and z components of a magnetic field.
Thus the sensor family is ideally suited for the measurement of:
3 dimensional movement within a magnetic field
Linear slide movement
360° angle rotation

By combining 3-axis measurement in a small package, with low power consumption, the TLE493D sensors provide a contactless position sensing alternative to applications which traditionally use mechanical or optical solutions. The system size for these applications can be reduced as magnetic threshold stability over temperature provides a highly accurate and more robust solution for those systems.
Infineon's sensor provides a standard 2-wire digital I2C communication interface, which enables a bi-directional communication between the sensor and microcontroller.
In keeping with the highest quality standards and environmental regulations, the sensor is RoHs compliant, JESD47 or AEC-Q100 qualified and supports system according functional safety standard ISO 26262.
TLE493D-W2B6 is available in 4 different variants ending with A0, A1, A2 or A3. The underlying feature is the so called Bus mode configuration of this device. It's possible to connect up to 4 sensors to one I²C bus. The specific addressing is then done via 4 different variants.
Summary of Features
3D magnetic flux density sensing of ±160mT
Programmable flux resolution down to 65µT (typ.)
X-Y angular measurement mode
Diagnostic measurements to check digital parts, analog parts and Hall probe of the sensor
Power down mode with 7nA (typ) power consumption
12-bit data resolution for each measurement direction plus 10-bit temperature sensor
Variable update frequencies and power modes (configurable during operation)
Temperature range Tj=-40 °C…125°C, supply voltage range = 2.8V…3.5V
Triggering by external µC possible via I2C protocol
Interrupt signal to indicate a valid measurement to the microcontroller
Benefits
Component reduction due to 3D magnetic measurement principle
Wide application range addressable due to high flexibility
Platform adaptability due to device configurability
Supporting functional safety by means of integrated diagnostics
Very low system power consumption due to Wake Up mode
Disturbance of smaller stray fields are neglectable compared to the high magnetic flux measurement range
Potential Applications
Control elements for infotainment/navigation systems, air conditions, multifunctional steering wheels, seat controls
Top column modules e.g. direction indicator, wiper control
Gear stick position sensing
Complementary Products
Complementary Magnet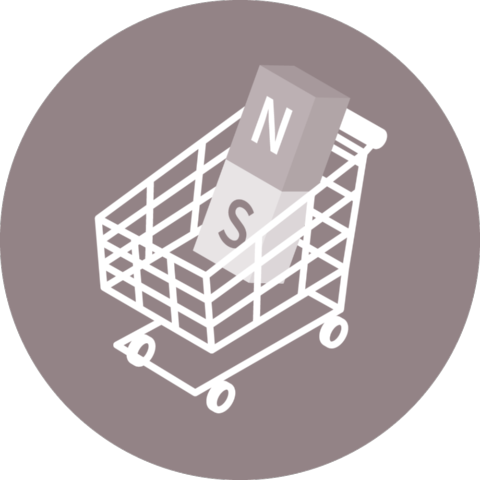 Disc magnet Ø 10 mm, height 5 mm, Neodymium, N45, nickel-plated, diametrically magnetised: S-10-05-DN

Stabmagnet Ø 2 mm, Höhe 4 mm, Neodym, N45, vernickelt: S-02-04-N

Scheibenmagnet Ø 4 mm, Höhe 2 mm, Neodym, N45, vernickelt: S-04-02-N

Stabmagnet Ø 4 mm, Höhe 10 mm, Neodym, N45, vernickelt, diametral magnetisiert: S-04-10-DN

Stabmagnet Ø Scheibenmagnet Ø 2 mm, Höhe 2 mm, Neodym, N48, vernickelt: S-02-02-N

Scheibenmagnet Ø 4 mm, Höhe 4 mm, Neodym, N45, vernickelt: S-04-04-N

Scheibenmagnet Ø 5 mm, Höhe 5 mm Ferrit, Y35, unbeschichtet: FE-S-05-05

Scheibenmagnet Ø 10 mm, Höhe 5 mm, Ferrit, Y35, unbeschichtet: FE-S-10-05

Scheibenmagnet Ø 1 mm, Höhe 1 mm, Neodym, N45, vernickelt: S-01-01-N

Quadermagnet 19,05 x 12,7 x 6,35 mm, Neodym, N42, vernickelt: Q-19-13-06-LN

Quadermagnet 5 x 2,5 x 2 mm, Neodym, 44H, vernickelt: Q-05-2.5-02-HN
Where to buy, link to Supermagnete