Expected Adoption of Wi-Fi 6 Routers for the Smart Home
By Sivaram Trikutam, Vice President Wi-Fi Product Line
We've all been there, working from home or on a Zoom call and then suddenly our computer freezes and everything stops working. In today's new normal of hybrid work, having a stable and reliable Wi-Fi connection is table stakes. Yet most of us still experience Wi-Fi connectivity problems at home.

One of the reasons for slower or dropped Wi-Fi connectivity is the number of Wi-Fi connected smart home devices that we have at home. How many Wi-Fi connected devices do you have in your home? Now think back to about a decade ago, in 2010, how many Wi-Fi connected devices did you have then? Well in 2010, an average home in the U.S. had approximately four smart home devices, probably had a smart TV and a few smartphones. A few years ago, in 2019, an average household in the U.S. had about 11 smart home devices and since the pandemic that number more than doubled to an average of 25 smart home devices in the U.S.

Today an average household in the U.S. has multiple smart TVs because mom and dad like to watch Bloomberg while the kids binge watch their favorite Netflix series, smart lights, a few smart speakers, Peloton or Mirror and your favorite fitness tracking band or ring, as we are trying to drop the pounds we put on during the pandemic. And let's not forget about comfort, we need a smart thermostat to control the temperature within our home, smart cameras outside and inside our home, for security and making sure our Amazon deliveries do not walk away and so on. If you have kids, or you're a kid at heart, then there is a lot of gaming that goes on at home and gaming puts a lot more stress on access points (AP) in a different way than the rest of your smart home devices.
All of that adds up to an average of 25+ Wi-Fi connected devices within a home in the U.S. Nowadays not only do we have more connected devices but since the pandemic we are actually using those connected devices much longer than ever before. In order to support the demand for connectivity within the home, it's best to have the latest Wi-Fi version, Wi-Fi 6, and multiple access points to increase speed, range, reduce latency, and reduce coexistence issues.
Wi-Fi 6 adds operation in the 6 GHz band, which has not been available in the previous Wi-Fi versions. Since no previous generation Wi-Fi devices will be operating in this band, the ability to access the medium will be much faster. As a result, communicating on the medium is much more efficient vs the 2.4 GHz and 5 GHz band, resulting in higher overall power efficiency for the IoT device. The clear, uncongested spectrum available in the 6 GHz band can substantially improve product connectivity, robustness and reliability, battery life, and customer experience.
Rollout of Wi-Fi 6 Routers
To get the most benefit of Wi-Fi 6 you need to pair it with a Wi-Fi 6 routers. From an infrastructure and total ecosystem standpoint, Wi-Fi 6 is growing. While only 20 routers were certified in 2019, the number grew to 502 in 2020, and is expected to double by the end of 2021 (source: Wi-Fi Alliance). Momentum is picking up on certified Wi-Fi 6 routers with the advanced capabilities of Wi-Fi 6E just approved in January 2021. According to market research firm IDC, in 2021 more than 50% of all Wi-Fi shipments will be Wi-Fi 6, and it is forecasted to make up 79% of all Wi-Fi product shipments within the next two years.
Routers, phones, and laptops are typically early adopters for infrastructure. Even though today's numbers may be small, once industry leaders move to Wi-Fi 6, most IoT device manufacturers will follow. For example, in January 2020, Comcast, the nation's largest gigabit speed provider, became one of the first U.S. internet service providers (ISPs) to offer a Wi-Fi 6 Certified gateway delivering faster speeds, ultimate capacity, lower latency, and best-in-class Wi-Fi coverage throughout the home. Other leading ISPs are now offering Wi-Fi 6 Certified gateways.
Wi-Fi 6 APs only started shipping in late 2019, but current projections show that Wi-Fi 6 will be the dominant technology shipping by 2023. More specifically, according to ABI Research, Wi-Fi 6 will account for around 50% of all access points expected to ship in 2023 and should reach >90% penetration on new access points by 2025.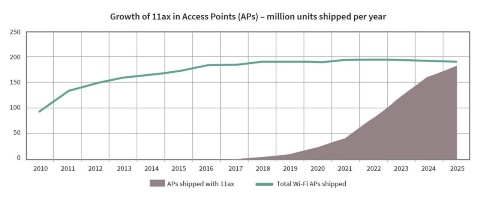 The hard work of the Wi-Fi Alliance, and with input from companies like Infineon, next-generation IoT products using Wi-Fi 6 promise to be even more innovative and provide an even better user experience. Wi-Fi 6 is expected to be the dominant router shipped in 2023.
When you're always having trouble connecting to your Wi-Fi network at home, Wi-Fi 6 is the best solution to rely on. This next-generation Wi-Fi offers additional technologies to speed up and make your connection more efficient. It promises optimum performance, less bandwidth congestion, as well as longer battery life for your mobile devices.
Are you thinking of launching a new IoT product in 2023-2024 and will your IoT product take advantage of Wi-Fi 6 to deliver a high-quality experience for your end users? Now may be the time to upgrade your next IoT product to Wi-Fi 6.
Contact Infineon here to access our global support team as a partner in your next design