Post-pandemic opportunities for a smarter future in public transport ticketing
Date of publication: 09.08.2021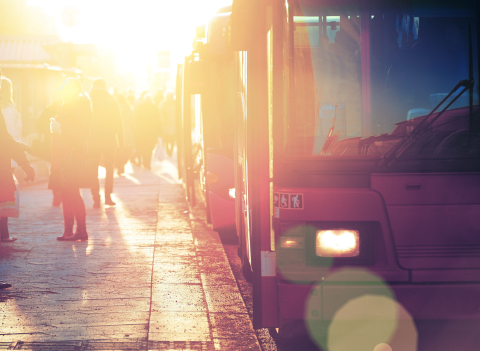 Few could have predicted that by spring 2020, passenger footfall would have dropped by 97% in some of the world's most populated cities.
In a short space of time, decision-makers had to adapt to support passenger safety while maintaining public transit's vital economic role.
Responding to the ongoing challenges enables operators and authorities to lay new foundations for the long-term future of urban transit via a 'digital first' approach.
Technology is driving this future, led by rising numbers of smartphone users, which is growing at an average of 11.84% annually and is set to reach 7.5bn by 2026.
The focus now should not be on survival, or even recovery, but on sustainable growth. By capitalising on the post-pandemic opportunities to improve the passenger experience and make ticketing seamless, convenient and highly secure, we can unlock a sustainable future for urban transit.
Infineon has produced a new eBook that explores these post-pandemic opportunities, with input from a range of influential voices from the global transport ticketing industry:
Digitisation
Going digital reduces reliance on environmentally harmful ticketing such as disposable tickets and tokens. Instead, it offers secured and reliable validations, improved passenger flow at busy travel spots, and frees up resources by reducing reliance on kiosks and vending machines.
Urbanisation
Deploying Mobility-as-a-Service (MaaS) helps urban planners think about the first and last step of every passenger's journey, delivering an improved, joined up experience beyond traditional modes of transport, helping support growing capacity demands.
Convergence
By integrating multiple services and technologies, ticketing becomes an enhanced experience with added value, incentivising passengers and businesses to use public transport.
Going Green
Building an improved, smarter transit network that incentivises passengers can steer people away from private vehicle use and embrace public transit's greener credentials, while helping to advance cities' environmental goals.
Sustainability
Achieving true sustainability will see transport operators and authorities transform their service in flexible, cost-effective, and more competitive way, putting them in control of their network long into the future.
What next?
Migrating towards a smarter future for urban mobility won't happen overnight, but open standards can help planners streamline the journey.
Discover more about the post-pandemic opportunities for a smarter urban transit sector and how open standards can help them become a reality. - Download eBook