Little Box Challenge - High Power Density Inverter Competition

The Challenge
The Litte Box Challenge design contest presented by Google and the IEEE Power Electronics Society challenges engeneering teams to create the highest power density power inverter design. To help you meet that challenge, Infineon offers a wide range of Silicon Carbide (SiC) Schottky diodes and JFETs, charge-compensated MOSFETs and fastest IGBT switch families, plus many more products for your winning design.
Silicon Carbide (SiC) from the World´s Largest Power Semiconductor Supplier
Infineon is the world's first Silicon Carbide (SiC) discrete power supplier (2001) and the first with SiC high power modules (2006). Long market presence and experience enable Infineon to deliver highly reliable, industry-leading SiC performance. Infineon recently introduced its 5th generation 650V & 1200V thinQ!™ SiC Schottky diode families with the smallest voltage drop and capacitive charge. The 650V technology is available in the revolutionary ThinPAK package with solderless assembly, which reduces thermal resistance by half versus traditional packages for high-density inverter designs. Infineon also offers award-winning CoolSiC™ 1200V SiC JFET family with normally off Direct Drive technology attains efficiencies approaching 99%.
650V & 1200V thinQ! TM Silicon Carbide Schottky Diodes Generation 5
With over ten years pioneering experience in developing and manufacturing SiC diodes, Infineon´s newest thinQ! TM SiC Schottky Diodes Generation 5 family sets the benchmark in quality, efficiency, and reliability.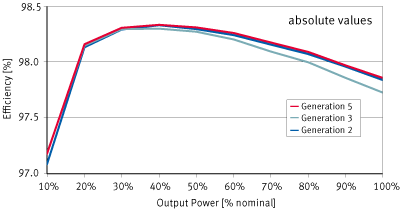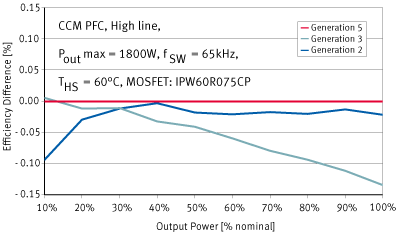 The Big "thin" Advantage
Infineon's SiC diode and Si MOSFET & IGBT portfolios offer the smallest die size and therefore the highest current density. The usual drawback with small chip sizes is increased thermal resistance, but Infineon's unique solderless assembly enables a very low thermal resistance from chip to leadframe to PCB, enabling highest current densities and excellent pulse current handling capability.
Key Features
V BR at 650V or 1200V
Revolutionary ThinPAK package, 1/3 die thickness plus Infineon´s unique merged pin Schottky design dramatically improves thermal performance and surge current
Best-in-class Figure of Merit (Q C x V F)
No reverse recovery charge
Soft switching reverse recovery waveform
Temperature-independent switching behavior
High operating temperature (T Jmax = 175°C)
Outstanding surge current capability
Be First with Ultra-Efficient Silicon Power Products
Infineon's silicon power portfolio includes charge-compensated CoolMOS™ MOSFET and fastest TRENCHSTOP™ IGBT switch families. Used in conjunction with thinQ! TM SiC Schottky diodes, significant reduction of switching losses are achieved for state-of-the-art high power density inverter designs.
High Voltage CoolMOS™ Power MOSFETs
The revolutionary CoolMOS™ power families set new standards for energy efficiency. As technology leader in high voltage MOSFETs, CoolMOS TM offers a significant reduction of conduction and switching losses and enables high power density and efficiency for superior power conversion systems.
650V TRENCHSTOP™ 5 Discrete IGBTs
TRENCHSTOP™ 5 IGBT technology redefines "Best-in-Class" IGBT by providing unmatched performance in terms of efficiency for hard switching applications. When high efficiency, lower system costs and increased reliability are demanded, TRENCHSTOP TM 5 is the only option.
Easy-to-use H5 high speed family replaces existing IGBTs, gate resistance down to 5Ω
Ultra-fast F5 family together with SiC diodes delivers increased efficiency
Related HV & LV Power Products
Related Applications
Think Shrink – XMC Microcontrollers
Think shrink – all starts with the right microcontroller: the Infineon XMC MCU family. XMC 32-bit microcontrollers are tailored for digital power control applications and feature an ARM® Cortex™ core inside a tiny package with ultra-high resolution PWM channels, fast ADCs, as well as Hardware Interconnect Matrix for real and ultra-fast predictive closed loop control inverter designs. XMC MCUs help you control very high power in a tiny box up to 125°C ambient temperature.
XMC4000 Family
80 MHz ARM® Cortex™-M4
DSP, FPU, MPU, and DMA
Hardware Interconnect Matrix
4-channel high-resolution 150 ps (6.6 GHz) PWM
2x 12-bit fast 70 ns ADCs
125°C ambient operating temperature
7x7 mm VQFN-48
XMC1000 Family

32 MHz ARM® Cortex™-M0
64 MHz MATH coprocessor (SIN, COS, MUL, DIV, XMC1300 series )
Hardware Interconnect Matrix
Fast 15.625 ns (64 MHz) CCU8 Timer/PWM
12-bit fast ADCs
2x 12-bit fast 70 ns ADCs
105°C ambient operating temperature
4x4 mm VQFN-24
Support
For product samples, please click on the "Buy Online" button on most product pages. If you have any questions or need help with samples, please feel free to contact us at our Customer Support Center.