Dependability is the key driver for the megatrend towards autonomous driving
The future car is fully connected and always online. It is all-electric and autonomous. At Infineon, we believe that it takes both to realize it- technology and trust.
The increased need for safe electronic systems in vehicles, that drivers and passengers can rely on, are the foundation of trust and shape the future towards higher levels of automated driving.
Winning trust of tomorrow's passengers starts with dependable electronics that enable highly available, dependable, robust, safe and secure systems that operate in all conditions.
Infineon is your trusted partner offering all relevant ingredients for your dependable systems – automotive quality, Functional Safety, cybersecurity, innovative products, system understanding and operational excellence.
Dependable Solutions for Future Mobility and Zonal E/E Architectures
The developments from a central power distribution (Domain Architecture) towards a decentralized zonal architecture will enable the implementation of more "functionalities" in the car. The goal with zonal architecture is to ensure a dependable and highly available power net.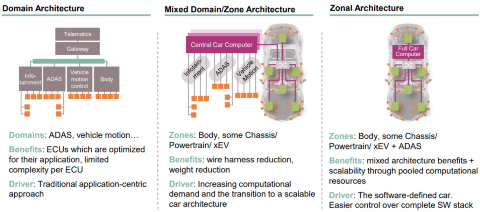 Zonal E/E architecture eases complexity:
› Software and Hardware scalability
› Reduce overall wire harness length
› Weight and manufacturability issues
Dependable systems…
› …enable the implementation of zonal architectures
› ... and further reduce complexity by safeguarding system security, safety and availability
Learn more about Infineon's pillars of dependable electronics:
Automotive Quality- Beyond the standards with a zero defect mindset
Functional Safety - Innovative solutions for safety-critical applications
Cybersecurity- No Safety without security!