Automotive networking technology is evolving fast, driven by a number of key trends. With an ever-increasing number of cars on the road and tighter CO 2 emission legislation, the demand for energy efficiency is continuously growing worldwide. Additionally, the spotlight is on functional safety, on comfort, safety and even security features – also in low-end segments. High-performance reliable communication interfaces and protocols are required to support the growing volume of data shared across the different automotive electronica control units (ECUs).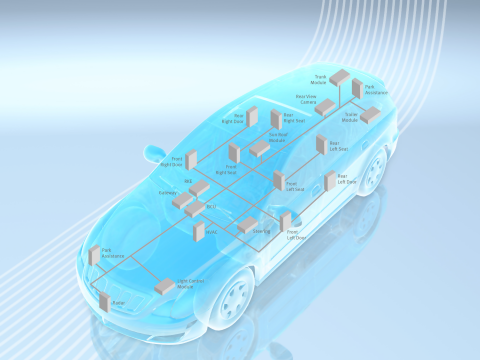 World leader in automotive electronics for over 40 years, Infineon actively engages with many industry, standardization and research organizations to drive in-vehicle networking innovations capable of meeting today's demands for energy efficiency, safety, reliable interfacing and complexity management.
Infineon Automotive Networking Products
Our broad portfolio extends from stand-alone tranceivers through system basis chips to embedded power solutions for CAN, CAN FD (Flexible Data-rate), CAN PN (Partial Networking), LIN and FlexRayâ"¢ protocols. We also offer microcontroller with enhanced communication capabilities to support multiple protocols. All of our products are designed to fulfill or even exceed the exceptional levels of ESD and EMC performance required in automotive environments. And to ease and accelerate your design-in process, Infineon offers a range of demo boards, configuration tools, tool chains and development platforms.
Infineon is offering a broad product portfolio of automotive transceivers for different automotive bus segments that are perfectly suited and designed to withstand the harsh automotive environment.
A SBC is an integrated device that combines/implements standard features such as:
transceivers
voltage regulators
diagnostics and supervisions features
drivers and switches
The Infineon® embedded power IC integrate on single die the microcontroller, the non volatile memory, the analog and mixed signal peripherals, the communication interfaces along with the driving stages needed for either relay, or half-bridge or full-bridge DC and BLDC motor applications.
Its innovative multicore architecture, based on up to three independent 32-bit TriCoreâ"¢ CPUs, has been designed to meet the highest safety standards while significantly increasing performance at the same time.