Why do we need enable?
Many linear voltage regulators can be turned off with an enable control input. In some automotive and battery- run applications, it is necessary to significantly reduce the quiescent current when the module is off. This can be accomplished by turning off the linear voltage regulator with low-logic signal (0V) applied to the EN pin. To turn on the regulator again, a
high-logic signal (e.g. 5V) is applied to the EN pin.
This function is also called inhibit and the corresponding pin is called INH in some older voltage regulators.
If the enable/inhibit function is not used, the EN or INH pin must be connected to the input I.
Example: TLE42994 current consumption
V I = 13.5V; T j = -40°C < T j< 150°C
Parameter
Symbol
Limit values
Unit
Conditions
Min.
Typ.
Max.
Current consumption;
I q = I I - I Q
I q
-
65
105 1)
µA

Enable HIGH 1);

I Q ≤ 1mA 1);

T j < 85°C
Current consumption;
I q = I I - I Q
I q
-
-
1 2)
µA

V EN = 0V 2);

T j = 25°C
1)Though no output current is flowing, the regulator is still supplying the nominal output voltage and consumes some current.
2)The output voltage is switched off by EN/INH, the regulator consumes only very low stand-by current.
Tips & tricks
TLE4267 inhibit/hold function
In microcontroller supply systems, enable/inhibit might be controlled by the ignition key. Microcontrollers must be able to store data in case the ignition key is turned off. The additional HOLD pin of the TLE4267 allows microcontrollers to control the turn-off sequence. The voltage regulator remains on after inhibit is turned off as long as the microcontroller keeps the HOLD pin active low. The microcontroller can then release the HOLD signal when it is ready to be switched off, and then the voltage regulator will be turned off.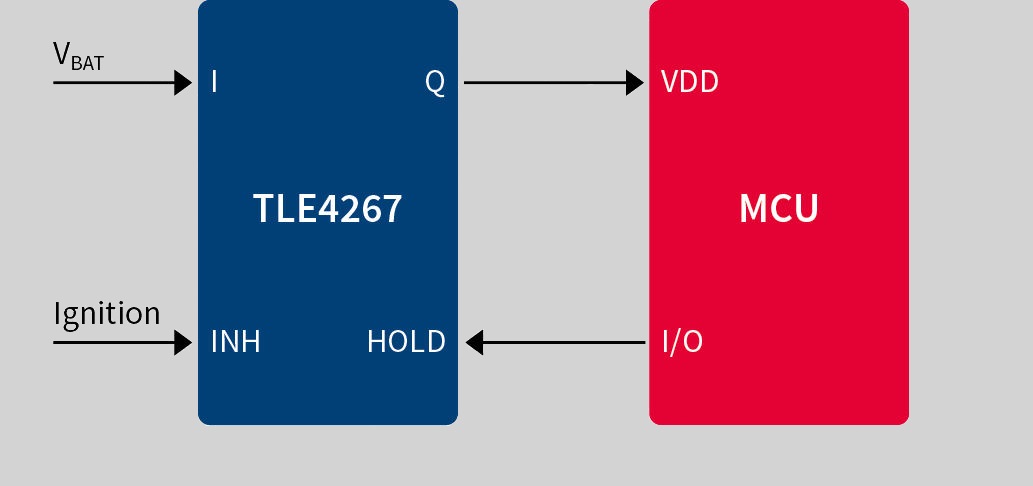 TLE4267 inhibit/hold function