Bandwidth limitation on CAN-Bus communication is one of the driving forces for new communication techniques. In addition safety requirements call for a deterministic communication system without compromise. This is where FlexRay comes into place. This article covers Infineons Microcontroller FlexRay offering, FlexRay transceivers and AUTOSAR FlexRay Low Level drivers. It also covers motivation for FlexRay (compared to CAN), gives application examples and an outlook to Ethernet.
In September 2000, BMW and DaimlerChrysler joined hands with Philips and Motorola to set up the FlexRay Consortium to develop a protocol for high-speed control applications in vehicles. Not much later Infineon Technologies participated in the EC research project called "BRAKE" which focused on the requirements of safe dependable communication. In 2006 BMW launched the first FlexRay network in a high-end model. Ever since this communication standard is gaining more and more ground. The migration of the FlexRay standard into an ISO-standard is in progress. As an enabler for new technologies Infineon offers a comprehensive set of FlexRay innovations in order to spread this new communication system over a broad range of applications.
Infineon with a consequent FlexRay offer on the HW side:
a) The new 32-Bit TriCore family AUDO MAX:
The previously launched 32-Bit TriCore AUDO MAX family comes with embedded FlexRay over the whole family. This covers low-end micros like the TC1724 which is e.g. a good fit for suspension applications, over to mid-range products like TC1782/TC1746 which are popular in transmission and EV-applications up to the high end segment. Here the TC1798 with 300MHz is ideally suited for complex engine management systems like Gasoline Direct injection 6 cylinder. All these microcontrollers are available with embedded FlexRay based on protocol version 2.1 / 2.1Rev A. An official FlexRay Protocol Conformance Certificate – issued by TÜV Nord - is also available for this new family.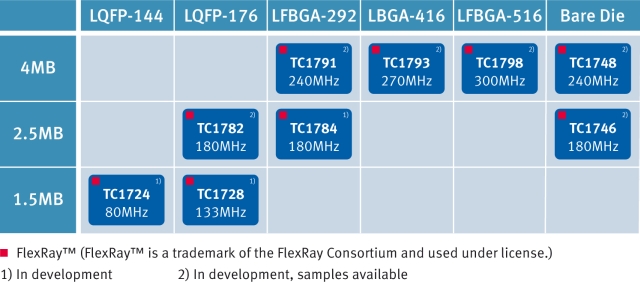 b) The 16/(32)-Bit XC2000-family:
As not for all applications the performance of a 32-Bit TriCore is necessary Infineon offers a comprehensive 16-Bit family with three dedicated product lines for body, safety and powertrain applications. Clock rates are between 80MHz and 128MHz and embedded Flash covers 566KB to 1600KB. These microcontrollers also come with FlexRay. For more details please refer to picture2.
c) The new FlexRay Transceiver TLE9221SX:

Infineon has been launching quite a number of standalone transceiver devices for various automotive communication protocols ranging from K-line to FlexRay.
The FlexRay transceiver TLE9221SX is the latest device in this product group. Besides offering data-rates up to 10Mbit/s, it is compliant to the current FlexRay electrical physical layer specification V3.0.1 and comes with an optional bus guardian for bus supervision. In addition it offers built-in protection features as well as very good EMC behavior regarding emissions (EME) and interference (EMI). With its +/-10kV ESD rating at IEC61000-4-2 and HBM, the TLE9221SX offers best in class ESD robustness.
Safety considerations:
The initial implementations of FlexRay in vehicles put the focus on higher transfer rates. The extra bandwidth was deployed where the CAN-bus got marginal (bottleneck) and reliable control algorithms could no longer be achieved (bus load limitations). However there is more to FlexRay. FlexRay is redundant – meaning it comes with two channels. If one wire is broken, the other one is still transmitting the signal. FlexRay is deterministic – meaning for example every talker on the bus is "time-slotted" as such getting guaranteed access in every cycle. So the talker could be a critical sensor in a Vehicle Stability Control (VSC). Based on these sensor data an algorithm is triggering the necessary "safety activities" in the system. This is not feasible when using CAN as it is event-triggered and based on bus load a message might not get transferred. These small examples show that FlexRay is a key-enabler for safety systems. It therefore allows the set-up of x-by-wire systems meeting standards like SIL and the new and mandatory ASIL-Levels. In this context the PRO-SIL safety features of Infineons Microcontrollers combined with FlexRay make a perfect match to meet functional safety requirements.
In-Vehicle Networking/future partitioning:
High-end cars today are equipped with up to 70-80 ECUs. The interaction between these ECUs is increasing and so is SW code. There are different network structures (local and proprietary) adding to the complexity. And also car makers are under ongoing pressure from regulation (e.g. energy efficiency) and from end-customer side (e.g. more comfort) to extend functionality. The current multi-grid CAN networking lacks the potential to meet these requirements also in the future. A promising solution is domain-based networking. In such a set-up the FlexRay bus connects the domain controller with satellite modules (cost reduced "light" ECU) using standardized Software (AUTOSAR). FlexRay Low Level drivers as part of the Microcontroller Abstraction Layer (MCAL) are offered by Infineon as interface to AUTOSAR 3.0 and 3.1. In the domain controller a 32-bit TriCore like TC1798 with a clock rate of up to 300MHz and 4MB embedded memory handles the central computing for the whole domain.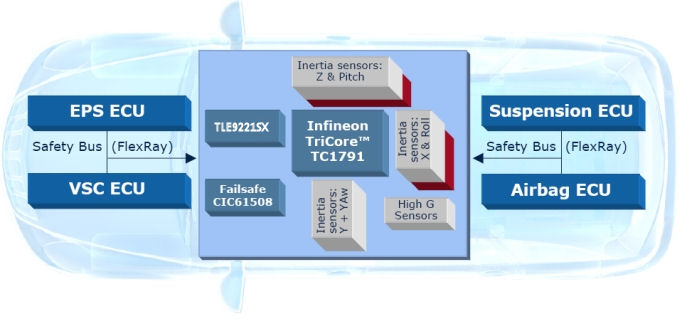 Sensor fusion in the safety domain:
As a possible example of a future high end central chassis partitioning (picture3) a safety domain controller is FlexRay connected to the Airbag, suspension, Power Steering (EPS) and Stability control (VSC) system. Besides the inherent safety advantages of FlexRay which were discussed earlier such a set-up also allows a reduction of sensors by not applying decentralized sensors in various ECUs but centralizing them in the domain controller. As sensors are relatively complex and expensive components there is quite a significant cost reduction associate with this approach. Savings of 30-40 US-Dollars on the sensor side are not unrealistic. TC1791 - a high-end 32-bit microcontroller of the new AUDO MAX family - takes care of the central computing. Accompanied by the safety watchdog CIC61508 and Infineons SafeTcore Software the right support for ASIL-requirements is also available.
Cost: FlexRay versus CAN:
The cost for a FlexRay node is around two times compared to a CAN node. FlexRay on silicon simply has a higher area demand. But on the other hand a CAN node is narrower in bandwidth. O.k., one can argue: In this case I simply take 2 CAN nodes and I can also meet the necessary bandwidth. Discussions on that level are not leading anywhere. Cost can only be compared realistically if same functionalities are compared! This needs to be done on system level. A FlexRay implementation offers potential reductions in wiring harness, CAN sub-buses and sensors. Taking these savings under consideration FlexRay has approximately the same cost level as a CAN-system, however comes with more performance, extendibility and lower complexity. Another aspect of less cables and sensors is weight. And even small weight gains count to meet the penalty-threatening CO2 targets.
Ethernet – an outlook:
This bus system opens up a new dimension. Data rates from 100MBit/s promise innovations in domains like Infotainment and Driver Assistant Systems. For control systems demanding high-accuracy stability (in the 10µs) Ethernet is less of an option. FlexRay will remain unchallenged in these applications. Medium-precision stability (100µc range) can be reached by Ethernet and is sufficient for many applications. Today one of the bottleneck processes in vehicle production is the Flash process. A huge amount of data needs to be filled into various ECU memories – today via CAN-Bus. The high data rate of Ethernet is ideally suited to speed this process up. On the other side increasing bandwidth leads to EMI disturbances which need to be put under control. Innovative Ethernet transceivers could be the answer to this challenge. Infineon will integrate Ethernet in its next microcontroller family which will have SOP in 2013.