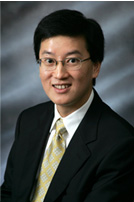 Andrew Chong
Regional President and Managing Director
Infineon Technologies Asia Pacific Pte Ltd
Andrew Chong manages Infineon's Asia Pacific business activities consisting of manufacturing, R&D, sales, marketing and corporate services. He was appointed to his current role in Oct 2010 after having previously led the R&D, sales and marketing activities for the region. Infineon's regional organization is headquartered in Singapore and consists of about 14,000 people with local presence in China, Korea, Taiwan, India, Malaysia, Indonesia, Hong Kong and Australia.
During more than twenty years of working in the field of semiconductors, Andrew has been based in Australia, Singapore and Germany. In this time he has worked in the field of IC design and project management, later moving into marketing and business management covering the Asia Pacific region. In total he has spent nearly ten years in R&D and fifteen years in the functions of marketing and business management. Andrew has experience in the market segments of automotive electronics, industrial electronics, consumer electronics, computer peripherals, power management and chipcard. In his career to date Andrew has managed the business through the development of the Asia Pacific market from a demand fulfillment region through demand creation to now a business creation region. This has entailed managing changes in the technical and organizational competencies in order to remain successful in the market.
Andrew received his Bachelor of Electronics Engineering in 1987 and his Master of Business Administration in 1993 from the University of Adelaide in South Australia.