KIT_A2G_TC397_TFT Application Kit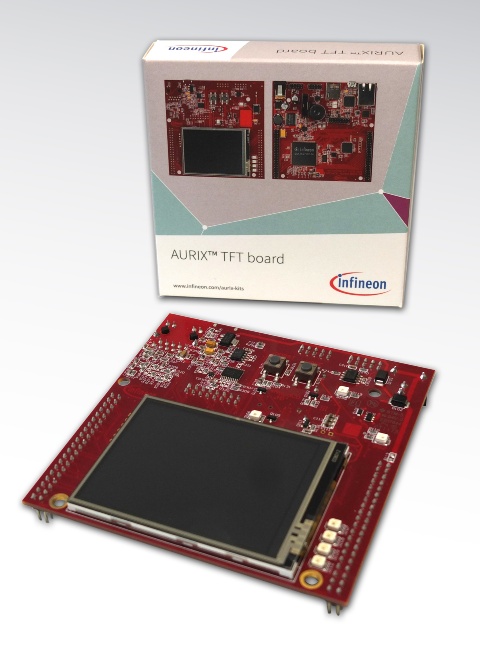 With this radar-specific evaluation board fitted with an AURIX™ TC397XA TFT, customers can connect through a dedicated Radar Interface MMIC and quickly start developing, evaluating and testing a full radar application.

The board features various communication interfaces such as CAN FD, Gigabit Ethernet, SPI FlexRay as well as an LCD XGA Display. It also gives access to all the digital and analog IOs available from the LFGBA-292 package of the microcontroller.
Summary of Features:
Infineon's TC397XA AURIX™ 2G Controller in LFBGA-292 ADAS Package
LCD XGA Display 320x240
SD card slot (mini-SD)
High-Speed CAN Transceiver (CAN FD capable)
USB to UART bridge
Ethernet Gigabit PHY
LIN Transceiver
Crystal 20MHz (default) or External Clock –
USB miniWiggler JDS for easy debugging
4 Low Power Status LEDs
RTC with alarm
Acoustic beeper
100mm x 100mm
Connectors:
The Application Kit TC397 ADAS offers a wide variety of connectors:
Standard power connector
Micro USB connector for ASC Interface (ASC0) and miniWiggler
RJ45 connector for Ethernet (if Ethernet supported by assembled CPU)
16-pin header for JTAG interface (OCDS)
10-pin header for DAP
10pin (2x5) Header for LIN Transceiver (LIN)
10pin (2x5) Header for CAN High-Speed Transceiver (CAN0)
two 40-pin connectors with I/O signals
mini SD card slot
60pin (2x30) high speed connector for MMIC/RIF