SPIDER+ | Multichannel SPI Driver Enhanced Relay Control
Overview
SPIDER+ devices are equipped with limp home and cranking, very low current consumption, enhanced diagnosis features, excellent thermal performance (exposed pad packages) and an input mapping function for the 2 direct inputs.
Furthermore the the new 8 ch HS device offers a very cost efficient solution to drive small HS loads, including open load at ON detection.
The family approach with consistent SPI registers, identical output stages for all channels and a comprehensive pin-to-pin compatibility reduce the design effort and therefore system costs down options as well as partitioning adjustments without a PCB re-design. Small TSDSO-14 and 24 pin packages realize PCB space savings.
Details
Applications
Key features SPIDER+
Benefits

Automotive/industrial relays and solenoids
Single LEDs and small bulbs
Unipolar stepper motors

Limp home and cranking functionality implemented forall products (down to 3 V battery)
Short circuit, overload and over temperature protection
Open load @ on diagnosis
Paralleling of outputs possible
Very low current consumption in sleep mode
16-bit SPI communication (5 MHz)
Enhanced diagnosis capability
2 PWM inputs with mapping function
4 channel devices: TSDSO-14 package
8 channel devices: TSDSO-24 package

Highest operational safety
Only one time design effort required (family concept)
High design flexibility
Up to 6 configurable channels
Cost down options without re-design
Entire path from microcontroller to loads trackable (supports ISO 26262)
Cost efficient HS driver available
PCB space savings (small packages)
Value scalable product portfolio
Excellent performance vs. price ratio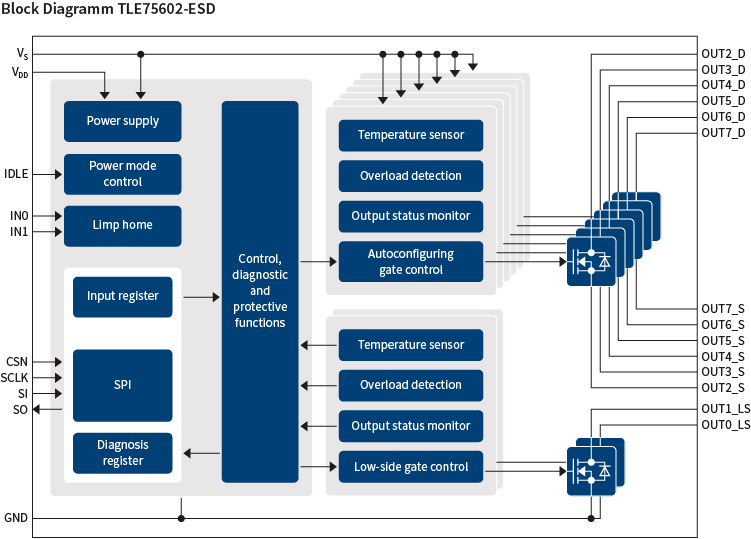 Tools & Software
Infineon tools in one place
The Infineon Toolbox integrates helpful software for our customers. For product development please use the Config Wizard for IPD.
Infineon Toolbox can be downloaded here: Download Infineon Toolbox
Tool
Devices
Description

Config Wizard

Config Wizard for SPIDER allows easy configuration of SPIDER / SPIDER+ products.

The user's guide can be found here.