SPIDER+ LED
Overview
The SPIDER+ LED devices combine the feature set of the SPIDER+ family with additional features to drive small bulbs or LEDs. Beside one highside channel device, three configurable devices support LED designs in the most cost efficient way with diagnosis and protection features.
Details
Applications
Key features

Single LEDs and small bulbs
Resistor based LED light designs

SPIDER+ feature set
Open load @ on diagnosis with tight threshold of 6mA for TLE75620-EST to avoid LED glimming
2 additional PWM generators
Bulb inrush mode to drive small bulbs
Application example – Smart LED rear light configuration with SPIDER+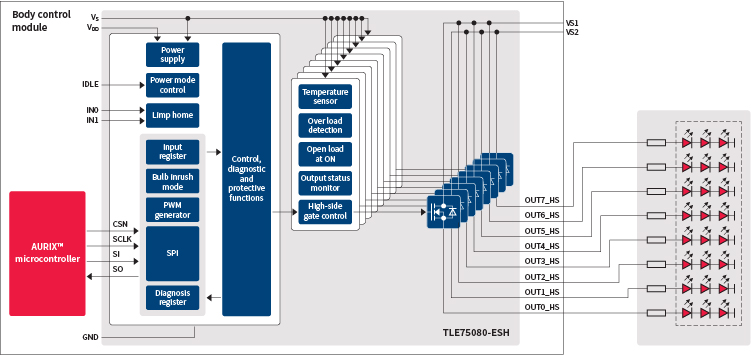 Up to 8 Channel with one device or 4 channel per battery feed - can support left and right real light with basic function like break, tail, indicator
Full diagnostic for proper analysis of light status
Excellent protection to support wire harness reduction - smallest possible diameter can be used!
Support
Find an answer to your question
Technical Assistance Center (TAC)
Infineon welcomes your comments and questions.

If you have any questions concerning our products, please fill out the following form. Your inquiry will be sent to the appropriate specialist who will be in touch with you as soon as possible.

You will receive a confirmation E-mail to validate your address in our system. Any attached file to the reply which will help to support your inquiry is highly appreciated.