Classic PROFET™
Products
Highlights
Documents
Boards
Simulation
Videos
Forums
Support
Software & Tools

myInfineon
---
The Classic PROFET™ Portfolio of Infineon is known as a very robust, solid solution to realize a high side architectures with semiconductors.
The key features are convincing and proven in the market:
High energy robustness
High voltage capability (58V)
Fast switching capability (up to 1kHz)
Low current consumption
PROFET™ intelligent power switches consist of DMOS power transistor and CMOS logic circuitry for complete built-in protection. The Classic PROFET™ family (PROtected FET) combines of a broad range of protected switches with different levels of smart features, like diagnosis (status or current sense) and protection features. In the event of a malfunction, the status feature is able to diagnose over temperature or open-load. The PROFET™ diagnostic features also provide the user with precise information about switch and load. Diagnostic feedback and load current sensing minimize risks by eliminating the need for additional discrete circuitry and assembly. This vast range of smart features makes the PROFET™ ideal for a variety of automotive (12 V), trucks & agriculture (24 V) and industrial applications.
Application examples

Application ranges

Load

Lighting
Heating
Power distribution
Motor control

Automotive (12 V)
Transportation (24 V)
Industrial

Capacitive, such as lamps and
glow plugs
Resistive, such as seat heating
Inductive, such as solenoids
Electronic, such as ECU
Recommended Classic PROFET™ devices for 24V applications, dimming functions and based on excellent cranking capability: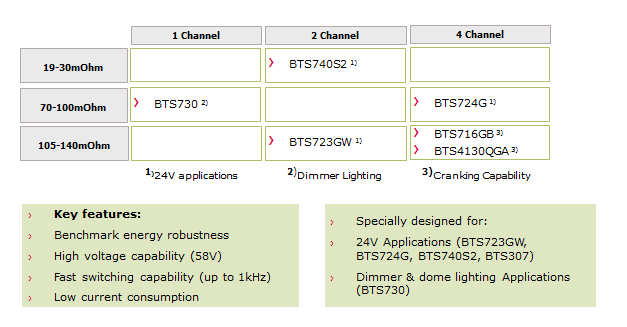 ---
Application Notes
| Title | Size | Date | Version |
| --- | --- | --- | --- |
| | 1.2 MB | 26 Apr 2017 | 01_00 |
Product Selection Guide
| Title | Size | Date | Version |
| --- | --- | --- | --- |
| | 1.7 MB | 04 Apr 2016 | 01_00 |
| | 11.5 MB | 03 Nov 2016 | 01_02 |
Find an answer to your question
Infineon welcomes your comments and questions.

If you have any questions concerning our products, please fill out the following form. Your inquiry will be sent to the appropriate specialist who will be in touch with you as soon as possible.

You will receive a confirmation E-mail to validate your address in our system. Any attached file to the reply which will help to support your inquiry is highly appreciated.