Overview
IPM with PMSM/BLDC motor controller and MOSFET power stage
iMOTION™ IPM integrating MCE 2.0 motor controller and three phase inverter with 600 V / 1.26 Ω RDS(on) MOSFETs in 12x12 mm PQFN package.
Summary of Features
Highly efficient 3-phase motor control
Flexible sensing options (single/leg shunt, sensorless, hall)
Storage of motor parameters
Multiple protections features
Benefits
Fastest time to market

No software development required
No inverter hardware design needed
Easy motor parametrization and tuning

Lowest BOM cost

Reduced BOM count and PCB size
Sensorless FOC algorithm
No need for additional PFC controller

Additional application flexibility via scripting
Smallest PCB footprint for 3-phase inverter

PQFN 12x12mm
No need for heatsink up to 80W
Videos
Find out what iMOTION™ Solution Designer offers you, how projects are created and the work flow in terms of configuration, tuning, dashboards and scripting. The tool guides you through the complete project workflow, achieving the shortest time to market with the lowest R&D efforts.
Training
The latest software release of Infineon's iMOTION™ Motion Control Engine (or MCE) supports two kinds of Universal Asynchronous Receiver Transmitter communication options. This training focuses on the Configurable UART communication protocol.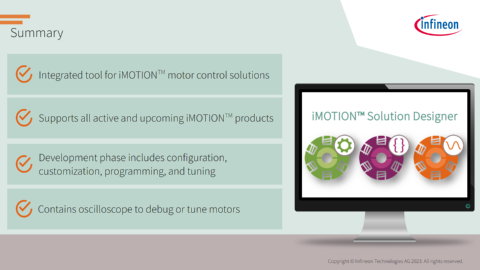 The iMOTION™ Solution Designer bundles all PC-based support functions related to setting up and running iMOTION™ products. This includes the configuration, programming and live tuning using configurable oscilloscopes as well as script editing and debugging. This training will help you get started with iMOTION™ Solution Designer.
The release of iMOTION™ 2.0 comes at an opportune time. Recent trends in the markets show that inverterization is taking hold at small as well as large companies, being applied across traditional applications, such as refrigerators, and for newer applications like hair dryers and water purifiers. To keep up with the trend, companies are required to convert outdated single speed motors to sophisticated variable speed motor drives. The latest iMOTION™ 2.0 is a close-knit turnkey solution consisting of advanced software, hardware, prototyping & evaluation boards, and support material that makes it easier than ever for customers to go to market cheaper and faster with an efficient, inverterized motor drive solution. Watch this video to get an overview of what is new with iMOTION™ 2.0.