Silicon Carbide CoolSiC™ MOSFET Modules
Overview
CoolSiC™ MOSFET module technology in different packages and topologies
Infineon's range of CoolSiC™ MOSFET power modules open up new opportunities for inverter designers to realize never-before-seen levels of efficiency and power density. When Silicon Carbide (SiC) semiconductors are used as switches, the overall system efficiency is improved by allowing higher operating temperatures and switching frequencies while also supporting high. In addition, Silicon Carbide (SiC) power modules can be tailored to different application needs and are available in topologies from 45 mOhm to 2 mOhm RDS(on).
Our selection of CoolSiC™ Silicon Carbide MOSFET power modules are available in different configurations such as 3-level, half-bridge, fourpack, sixpack, or as booster, our 1200 V SiC MOSFET modules offer a superior gate oxide reliability enabled by state-of-the-art trench design, best in class switching and conduction losses.
Not only can all EasyPACK™, EasyDUAL™, and 62mm CoolSiC™ MOSFET power modules be ordered with pre-applied Thermal Interface Material (TIM), but additional features can be offered as well. For example, our Easy modules with a high-performance aluminum nitride (AlN) ceramic significantly improve the thermal performance of RthJH.
New Generation of M1H Easy and 62mm modules coming soon
Highlights
SiC MOSFET 650 V and 1200 V Gate Driver ICs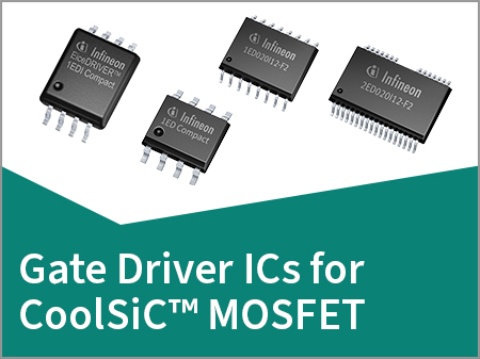 Ultra-fast switching power transistors such as CoolSiC™ MOSFETs can be easier handled by means of isolated gate output sections. Therefore, the galvanically isolated EiceDRIVER™ ICs based on Infineon's coreless transformer technology are recommended as most suitable.
> More about our EiceDRIVER™ ICs for Silicon Carbide MOSFETs