Overview
EconoPACK™+ D-series - Fit for the future
The next evolution step in reliability and power density for advanced inverter designs.
Increasing the efficiency while gaining the lifetime and durability of a state of the art frequency converter is one of the main challenges in power electronics. Power semiconductor modules are an essential part of these concepts.
EconoPACK™ + meets the demand for compact inverter designs, flexibility and optimized electrical performance at the highest levels of reliability. These 17mm-high modules have screw power terminals and are easy to assemble. Optimized gate driver connection is possible by placing the driver on top of the module. Low parasitic stray inductance and optimized thermal resistance to heat sink support to excellent inverter solutions.
Related information about other products in this family
Highlights
EconoPACK™ + with advanced H2S protection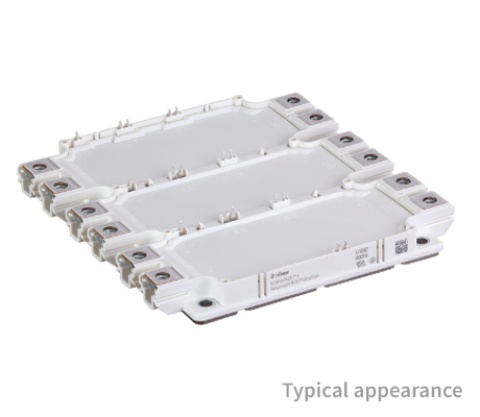 Reliability that pays off!
The EconoPACK™ + family is the first series of power modules with advanced H2S protection that has been designed for the use in harsh environments.
The unique technology blocks hydrogen sulfide entering the module before it can reach sensitive areas in the module. Thanks to this methodology, traditional and sometimes costly protection measures, such as additional room ventilation, temperature and humidity control in the installation area or even hermetic cabinets for the inverter become obsolete.
Learn more about advanced H2S protection and how a lifetime of 20 years can be calculated
EconoPACK™+ D-series Features & Applications
To meet these high standards also in the future, Infineon developed the EconoPACK™+ D-series. The EconoPACK™+ D-series is based on the well known and established EconoPACK™+ platform.
Key Features
Main Application

Lead free mounting to meet RoHS
Easy solder less mounting concept saves production cost and time
High reliability by decreasing FIT rate compared to spring or solder PCB mounting
Approved technology, already used in automotive
Focus on Robust Design
Injection molded terminals
Ultrasonic welded Power Terminals
Available with thermal interface material (TIM)
PressFIT control pins
Compact modules: 17 mm in height
This might also interest you