Overview
EiceDRIVER™ gate driver ICs for MOSFETs, IGBTs, SiC MOSFETs and GaN HEMTs
Every switch needs a driver – the right driver makes a difference. Power electronics applications employ power device switches. And power device switches require optimum gate drive solutions. That's why we offer more than 500 EiceDRIVER™ gate driver IC solutions suitable for any power switch, and any application.
EiceDRIVER™ gate drivers provide a wide range of typical output current options, from 0.1-A up to 10-A. Robust gate drive protection features such as fast short-circuit protection (DESAT), active Miller clamp, shoot-through protection, fault, shutdown, and over current protection, make these driver ICs well-suited for both silicon and wide-bandgap power devices, including CoolGaN™, and CoolSiC™. Download your copy of the Gate Driver Selection Guide now.
Please find your way to the right Gate Driver IC:
Select one of our product highlights for detailed information
Highlights
EiceDRIVER™ gate driver IC technologies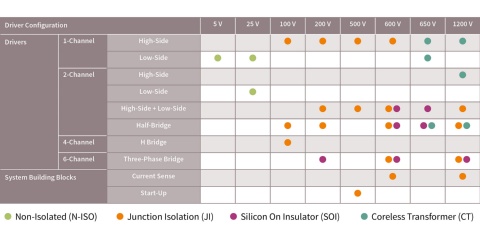 Decades of application expertise and technology development at both Infineon and International Rectifier have produced a portfolio of gate driver ICs for use with silicon and wide-bandgap power devices, such as MOSFETs, discrete IGBTs, IGBT modules, SiC MOSFETs and GaN HEMTs. We offer excellent product families of galvanic isolated gate drivers, automotive qualifies gate drivers, 200 V, 500-700 V, 1200 V level shift gate drivers, and non-isolated low-side drivers.
Our portfolio spans a variety of configurations, voltage classes, isolation levels, protection features, and package options. State-of-the-art discrete switch families require tuning of gate drive circuits to take full advantage of their capacity and capabilities. An optimum gate drive configuration is essential for all power switches, whether they are in discrete form or in a power module.
EiceDRIVER™ gate driver IC applications
Our EiceDRIVER™ gate drivers provide advanced features such as integrated bootstrap diode(BSD), over current protection, shutdown, fault reporting, enable, input filter, OPAMP, DESAT, programmable deadtime, shoot through protection, active miller clamp, active shutdown, separate sink and source outputs, short circuit clamping, soft shutdown, two level turn off, galvanic isolation(functional, basic and reinforced), etc.
Ideal solutions are available for hundreds of end applications in such markets as automotive, industrial motor drives, solar inverters, EV charging, robotics, UPS, server and telecom power supply, small and major home appliances, battery-driven applications, and high-voltage lighting.