AURIX™ is Infineon's brand new family of microcontrollers serving exactly the needs of the automotive industry in terms of performance and safety. Its innovative multicore architecture, based on up to three independent 32-bit TriCore™ CPUs, has been designed to meet the highest safety standards whil significantly increasing performance at the same time. Using the AURIX™ platform, automotive developers will be able to control powertrain and safety applications with one single MCU platform. Developments using AURIX™ will require less effort to achieve the ASIL-D standard than with a classical Lockstep architecture. Customers wanting to reduce their time-to-market can now cut down their MCU safety development by 30%. By the same token, a performance surplus of 50% up to 100% allows for more functionality and offers a sufficient resource buffer for future requirements, keeping the power consumption on the single-core microcontroller level. While protecting IP, and preventing theft and fraud, AURIX™ provides an already built-in Hardware Security Module. With its special feature set, AURIX™ is the perfect match for powertrain applications (including hybrid and electrical
vehicles) as well as safety applications (such as steering, braking, airbag and advanced driver assistance systems).
TriCore™ 1.3
TriCore™ 1 is the first single-core 32-bit microcontroller-DSP architecture optimized for real-time embedded systems. TriCore™ unifies the best of 3 worlds - real-time capabilities of microcontrollers, computational prowess of DSPs, and highest performance/price implementations of RISC loadstore architectures. The Instruction Set Architecture (ISA) supports a uniform, 32-bit address space, with optional virtual addressing and memory-mapped I/O. It allows for a wide range of implementations, ranging from simple scalar to superscalar. Furthermore, the ISA is capable of interacting with different system architectures, including those with multiprocessing. This flexibility at the implementation and system levels allows for different trade-offs between performance and cost at any point in time. To support TriCore™ implementations with 32-bit instructions and simplified instruction fetching, the entire architecture is represented in 32-bit instruction formats. In addition, the architecture includes 16 bit instruction formats for the most frequently occurring instructions. These instructions significantly reduce code space, lowering memory requirements, system cost, and power consumption. Real-time responsiveness is largely determined by interrupt latency and context-switch time. The high-performance architecture minimizes interrupt latency by avoiding long multicycle instructions and by providing a flexible hardware-supported interrupt scheme. Furthermore, the architecture supports fast context switching.

Feature Overview:
32-bit architecture

4-GByte virtual or physical data, program, and input/output address spaces

Full-featured memory management system

16-/32-bit instructions for reduced code size

Low interrupt latency

Fast automatic context switching

Multiply-accumulate unit

Saturating integer arithmetic

Bit handling

Packed data operations

Zero-overhead loop

Byte and bit addressing

Little-endian byte ordering

Flexible interrupt prioritization scheme

Memory protection

Debug support

Flexible power management
TriCore™ 1.6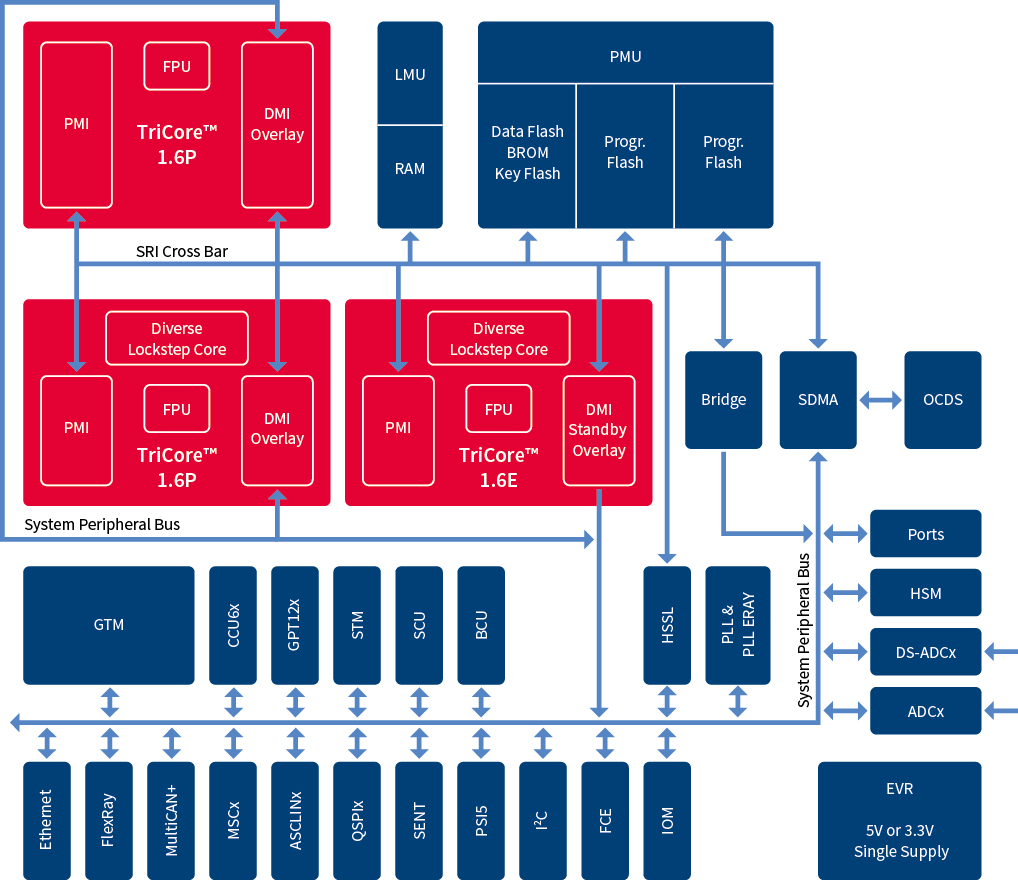 Feature Overview:

Up to 300MHz
Six-stage pipeline
Dedicated integer division unit in hardware
Optimized Floating Unit (FPU)
Enhanced branch prediction (branch history and target bufflers)
Optimized crossbar interconnect with 64-bit data width (shared resource interconnect)
16-bit and 32-bit instruction formats
32-bit load-store Harvard architecture
Superscalar execution
Sustained throughput by dual 16x32 MACs
SIMD (Single Instruction Multiple Data) packed arithmetic
Zero overhead loops (loop recognition buffer)
DSP addressing modes and saturated math

Benefits:

Highest performance for complex engine management systems
Integrated MCU-DSP instructions in one core
Very fast context switching for interrupt driven system
Fast and efficient processing of multiple tasks on one engine
Low code size and inherent high level language support
One development toolset for both MCU and DSP tasks
Higher flexibility and lower cost
Support ans supply of complete system chipset