With its up to hexa-core high performance architecture and, its advanced features for connectivity, security and functional safety, the AURIX™ microcontroller TC3xx family is ideally suited for a wide field of automotive and industrial applications. In addition to engine management and transmission control, targeted powertrain applications include new systems in electrical and hybrid drives. Specifically hybrid domain control, inverter control, battery management, and DC-DC converters will benefit from the new architecture. The AURIX™ TC3xx microcontrollers are well-suited to safety-critical applications ranging from airbag, braking and power steering to sensor based systems using radar or camera technologies. The combination of performance and a powerful safety architecture makes the family ideal fit for domain control and data fusion applications supporting the next levels of autonomous driving.
AURIX™ TC3xx family is highly scalable and offer Flash memory sizes of up to 16 Mbyte and more than 6 Mbyte integrated RAM. Whereas today's generation of AURIX™ TC2xx microcontrollers have up to three cores, the TC3xx multicore architecture provides up to six TriCore 1.62 embedded cores, each with a full clock frequency of 300 MHz. Four of the six cores feature additional lockstep cores, enabling a new level of ISO26262 functional safe computational power on a single integrated device.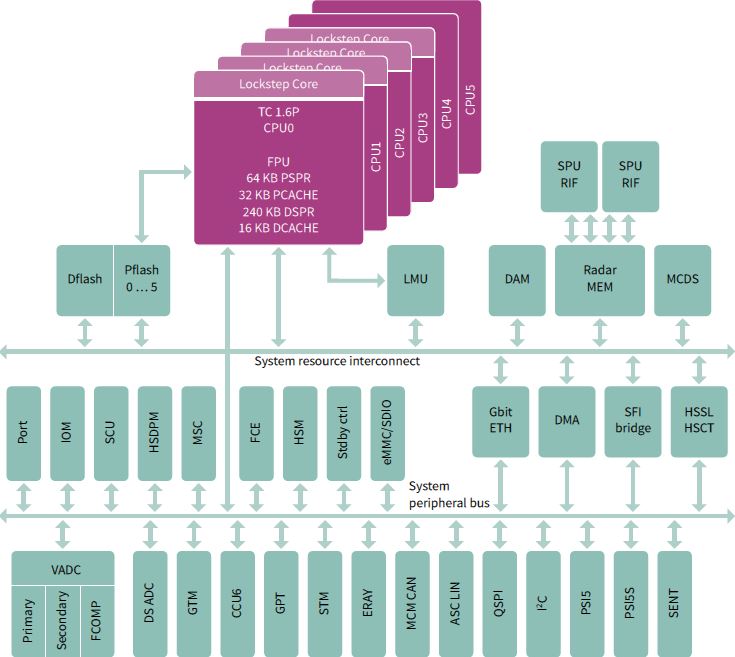 AURIX™ TC3xx sets a new standard in scalability and inter compatibility within the family. This enables system suppliers to offer platform ranging from cost effective to high performance solutions while minimizing R&D efforts and time to market.
Thanks to the Infineon deep system know-how of the targeted applications, AURIX™ TC3xx comes with a high integration of external functionalities and components allowing further bill of material cost optimization, compact board designs and fail operational systems for autonomous driving.
Automotive radar systems ranging from blindspot monitoring to advanced front radar specifically benefit from the capabilities of the new AURIX™ TC3xx family. A new radar processing sub-system with up to two dedicated Signal Processing Units (SPU) running at 300MHz enables computation of next generation radar algorithms on a single chip. In addition, radar MMICs can now be seamlessly connected to AURIX™ via a high-speed digital radar interface.
AURIX™ TC3xx does not compromise on security. The second generation of the programmable Hardware Security Module (HSM) is available across the family for secure on-board communications and to prevent hardware manipulation such as tuning. By integrating new asymmetric cryptography accelerators in hardware, performance is greatly increased and Full-EVITA support is achieved. The AURIX™ TC3xx also facilitates fast Software-Over-The-Air updates with minimal downtime to protect against software hijacking and unpermitted software alteration.
As a host controller in gateway and telematics applications, AURIX™ TC3xx microcontrollers support the latest communications interfaces and feature a Gigabit Ethernet interface, up to 12 ISO11898-1 compliant CAN-FD channels and, up to 24 LIN channels. An additional eMMC interface for external Flash interfacing enables local data storage supporting software-over-the-air update concepts.
Efficient multicore programming is essential to reap the full performance benefits of the AURIX™ TC3xx; this is enabled by a network of tools partners.