PSRAM (Pseudostatic DRAM)
Overview
HYPERRAM™ - Low pin count, High bandwidth expansion memories in small footprint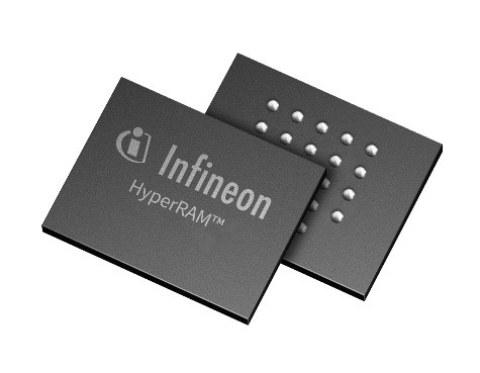 HYPERRAM™ is a stand-alone pSRAM based volatile memory that offers you an easy and inexpensive way to add more RAM to your applications. These low-power devices have high performance and low pin-count, making them ideal for applications requiring external RAM for buffering data, audio, images, video or as a scratchpad for math and data-intensive operations. These devices are available from 64 Mbit up to 512 Mbit in density and support JEDEC compliant HyperBus and Octal xSPI interfaces.
Density : 64Mb, 128Mb, 256Mb, 512Mb
Interface: HyperBus(x8), Octal xSPI(x8) and HyperBus Extended I/O (x16)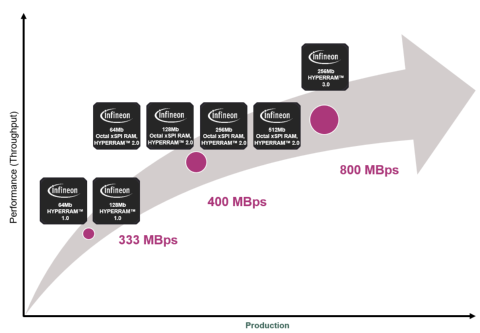 HYPERRAM™ 2.0 is the second generation of the HYPERRAM Family of products and support throughputs of upto 400MBps. HYPERRAM™ 2.0 products are available in densities ranging from 64Mb to 512Mb and supports Octal extended SPI interface (Octal xSPI RAM products) in addition to the HyperBus™ interface. HYPERRAM™ 2.0 devices are AEC-Q100 qualified and support Industrial and Automotive temperature grades upto 125°C. The third-generation products - HYPERRAM™ 3.0, doubles the throughput to 800MBps using a new 16-bit extended version of the HyperBus™ interface. 256Mb HYPERRAM™ 3.0 products are now available in production.
Key Features
Small Form Factor - FBGA package to ensure small PCB footprint
Low Pin-Count - Low pin-count to aid design simplicity and reduce system cost
Low Power - Hybrid sleep mode and partial array refresh for energy efficiency
High Throughput - High read/write bandwidth to maximize system performance
Partners
Last Updated: May 06, 2022
Infineon works directly with our partners to ensure our HYPERBUS™ memory solutions are fully compatible with existing and new chipsets. This effort ensures Infineon's products can be easily paired with chipsets from industry-leading manufacturers while shortening customers' embedded system design cycles.
Check back regularly to verify the growing list of microcontrollers supporting HYPERBUS™ products.
HYPERBUS™ Chipset Support
Partner
Chipset / Platform Name
Application
HyperFlash

HyperRAM

Infineon

TRAVEO™ S6J331x
Automotive Cluster
•
•
TRAVEO™ S6J335x
Automotive Gateway
•
•
TRAVEO™ S6J326Cx
Automotive Cluster
•
•
TRAVEO™ S6J324Cx
Automotive Cluster
•
•
TRAVEO™ S6J327Cx
Automotive Cluster
•
•
TRAVEO™ S6J328Cx
Automotive Cluster
•
•
TRAVEO™ S6J32DAx
Automotive Cluster
•
•
TRAVEO™ S6J32BAx
Automotive Cluster
•
•
TRAVEO™ II CYT4BF
Automotive Body
•
•
TRAVEO™ II CYT3BB/4BB
Automotive Body
•
•
FM4 Family S6E2DH Series
Industrial
•
•

Altera/Intel

MAX10
Industrial
•
•
Cyclone 10 LP
Industrial
•
•

Faraday Tech

A600
IoT
•
•
GCT
GDM7243i
IoT
•
•
Gowin Semiconductor
GW1NSR-2C
FPGA, Industrial
•
•
Greewaves Technologies
GAP8
Artificial Intelligence(AI), IoT
•
•
Lattice Semiconductor
CrossLink-NX
Image Sensor
•
Maxim
MAX32650
Industrial, Portable Medical, IoT
•
•
Microchip
PolarFire
Industrial, Communications, Defence
•
•
NXP

MAC57D5xxx
Automotive Cluster
•
S32K148
Automotive Generic / Body
•
S32V23x
Automotive ADAS
•
Kinetis K80
Industrial
•
Kinetis K82
Industrial
•
Kinetis K27F / K28F
Industrial
•
i.MX8 Family
Automotive Infotainment, Industrial, Consumer
•
•
i.MX 8ULP

Industrial, Smart Home, HMI

•
•

i.MX RT1050

Industrial

•

•

i.MX RT1020

Industrial

•

i.MX RT1060

Industrial

•

•

i.MX RT1064

Industrial

•

•

MCU-Based Solution for Alexa Voice Service

•

•

Industrial, Consumer

•

•

Industrial, Medical

•

•

Automotive Networking, Industrial

•

•

I.MX RT family

•

Automotive Radar

•

•

Consumer, Wearable, IoT

•

•

Renesas

Automotive Cluster

•

Automotive Infotainment / ADAS

•

Automotive Digital Cockpit, infotainment

•

Automotive Infotainment / ADAS

•

Automotive Gateway, Domain Control

•

Automotive ADAS

•

Automotive ADAS

•

ADAS / Autonomous Driving

•

Automotive ADAS and A.D.

•

Industrial, A.I.

•

•

Semidrive

Automotive Cluster and Body

•

•

ST

STM32L4Rx

Industrial

•

•

Automotive Gateway

•

SPC58EHx / SPC58NHx

Automotive Body, Network, Security

•

•

Industrial

•

•

Industrial

•

•

Texas Instruments

Industrial

•

Industrial, Networking

•

•

Automotive Digital Cockpit

•

•

ADAS

•

Xilinx

Communications

•

•

Communications

•

•

Communications

•

•

Communications / Industrial

•

•

Networking

•

•

Networking

•

•

Various

•

•

Industrial

•

•

Industrial

•

•

HYPERBUS™ 3rd Party Development Platform
HyperBus Memory Controller IP
HyperBus Memory Controller Verification IP
Training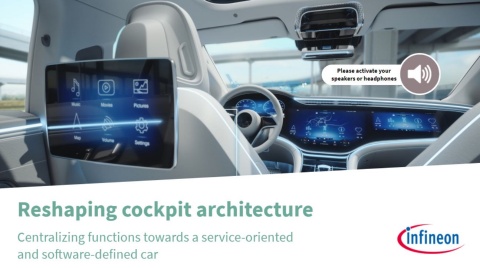 Understand the evolution of the cockpit architecture
Recognize the importance of the central modules like head unit and cockpit domain controllers and get to know Infineon solutions and their components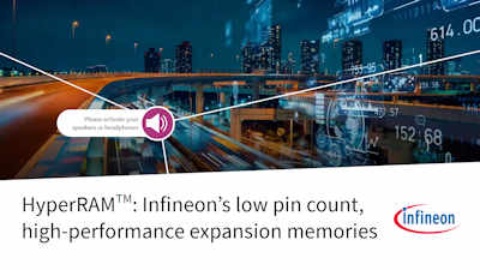 In this training you will:
Understand the need for an expansion memory
Recognize the key attributes designers look for in an expansion memory
Describe the challenges with existing expansion memory options