EZ-PD™ CCG4 USB-C Monitor/Dock Solution
Overview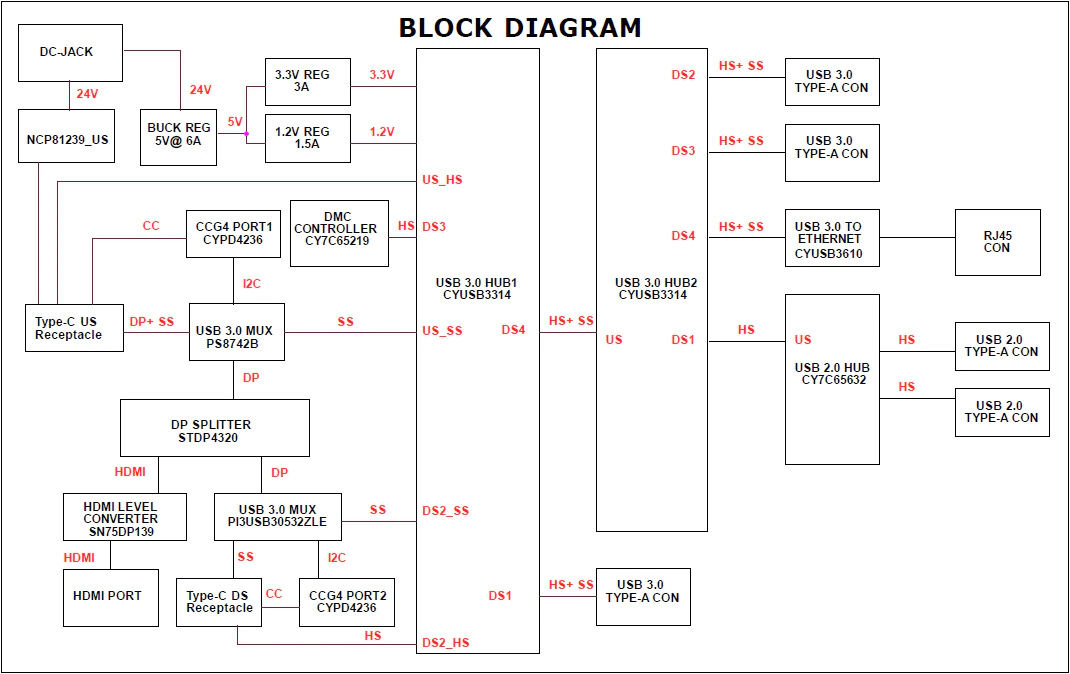 The EZ-PD™ CCG4 Monitor/Dock solution enables connectivity between a USB Type-C host system on the Upstream port and multiple Display/Data devices on the Downstream port. This solution has a USB Type-C receptacle on the Upstream port which supports data, power and display.
On the Downstream port, this solution supports:
1x USB 3.0 Type-C (Display + Power + Data)
3x USB 3.0 Type-A
2x USB 2.0 Type-A
HDMI
Gigabit Ethernet
The main features of this solution are:
Powered from an external 24V DCpower adapter
Provides up to 60W (20V@3A) on the Upstream Type-C port and up to 15W (5V@3A) on the Downstream USB Type-C port
Provides simultaneous display output with USB 3.1 Gen 1 data on the DS USB Type-C port
4-lane display on the DisplayPort over Type-C port
Multi-Stream display support on HDMI and Downstream Type-C port
HX3 hub and HX2VL for USB port expansion on the downstream port
Gigabit Ethernet using RJ45 connector
Support firmware upgrade of CCG4 controllers, HX3 Hub controller and Dock Management Controller
The EZ-PD™ CCG4 provides a complete USB Type-C and USB Power Delivery solution. The Monitor/Dock solution uses EZ-PD CCG4 (CYPD4236) devices. CCG4, HX3 and HX2VL chipsets are USB Implementers Forum (USB-IF) certified. CCG4 has an ARM® Cortex®-M0 with 128KB flash to enable firmware upgrades anytime, anywhere—during product development, on the production line or in the field. CCG4 for the USB Type-C Monitor/Dock solution is available in 40-QFN package. Infineon's USB SuperSpeed Hub controller HX3 (CYUSB3314) supports USB 3.0 Gen1 available in 88-QFN package. HX2VL (CY7C65632) is a Hi-Speed USB 2.0 Hub controller available in a small footprint 28-pin QFN package and is available in both single-TT and multi-TT options. GX3 (CYUSB3610-68LTXC) is Infineon's Low-power single chip USB 3.0 to Gigabit Ethernet Bridge Controller with Energy Efficient Ethernet. This device is available in 68-QFN package. CY7C65219 is Infineon's Dock Management controller and is available in 40-QFN package.
Infineon has developed a Monitor/Dock reference solution to enable customers to speed up their designs and development cycles. This reference design package includes required firmware binaries, tools, hardware design files (schematic, BoM and layout) and documentation for the reference monitor/dock solution. In addition this package includes the required firmware source files and documentation for CCG4 and DMC to enable building of customized monitor/dock applications. Refer to the Release Notes for more details.
Note: The board in the below picture is not for sale.
Need help? Ask a question and find answers in the Infineon Developer Community.