EZ-PD™ CCG2 USB-C Monitor/Dock Solution
Overview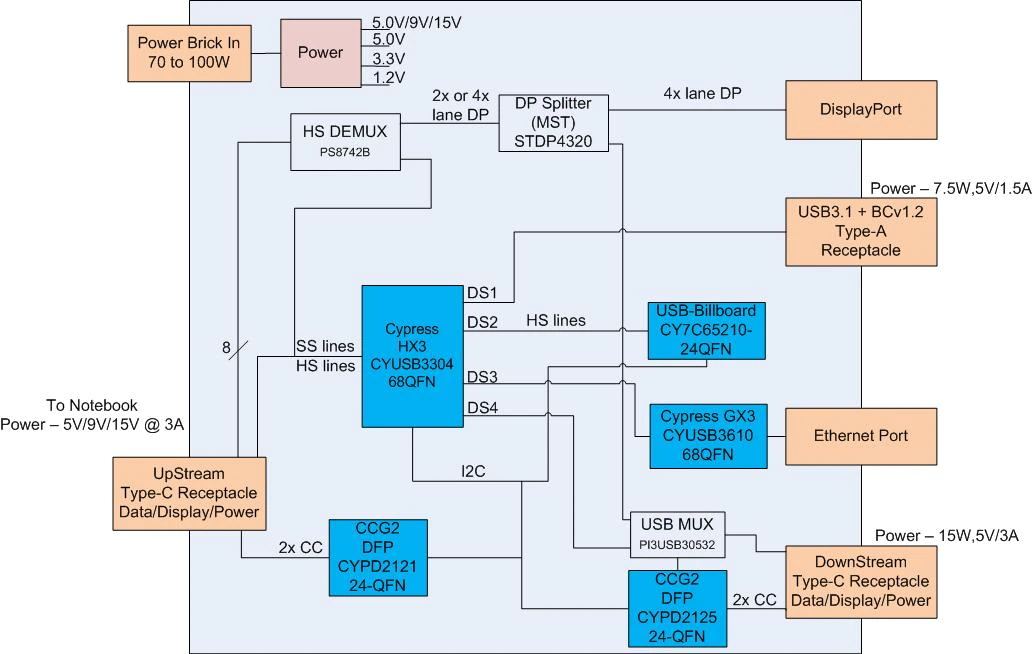 The EZ-PD™ CCG2 Monitor/Dock solution enables connectivity between a USB Type-C host system on the Upstream port and multiple Display/Data devices on the Downstream port. This solution has a USB Type-C receptacle on the Upstream port which supports data, power and display. On the Downstream port, this solution supports:
USB Type-A
Gigabit Ethernet
Display Port
USB Type-C
The main features of this solution are:
Powered from an external 24V DCpower adapter
Provides up to 45W (15V@3A) on the Upstream Type-C port and up to 15W (5V@3A) on the Downstream USB Type-C port
Provides simultaneous 4K display output with USB 3.1 Gen 1 on the USB Type-A port
4-lane display on the DisplayPort connector
Multi-Stream support on DisplayPort and Downstream Type-C port
USB 3.1 Gen 1 hub for USB port expansion
Gigabit Ethernet using RJ45 connector
Support firmware upgrade of CCG2 controllers, HX3 Hub controller and Billboard controller
The EZ-PD™ CCG2 provides a complete USB Type-C and USB Power Delivery solution. The Monitor/Dock solution uses two EZ-PD™ CCG2 (CYPD2121 and CYPD2125) devices. EZ-PD™ CCG2 USB Power Delivery (PD) controllers have got the USB Implementers Forum (USB-IF) certification for USB Type-C. CCG2 has an ARM® Cortex®-M0 with 32KB flash to enable firmware upgrades anytime, anywhere—during product development, on the production line or in the field. CCG2 for the USB Type-C Monitor/Dock solution is available in 24-QFN package. Infineon's USB SuperSpeed Hub controller HX3 (CYUSB3304-68LTXI) supports comprehensive battery charging features along with advanced features such as Ghost Charge. This device is available in 68-QFN package. GX3 (CYUSB3610-68LTXC) is Infineon's Low-power single chip USB 3.0 to Gigabit Ethernet Bridge Controller with Energy Efficient Ethernet. This device is available in 68-QFN package. CY7C65210 belongs to Infineon's USB-Serial Bridge controller family and is available in 24-QFN package.
Infineon has developed a reference schematic to enable customer to speed up their design and development cycle. The Reference Design files below has the BOM list and layout files for the adapter solution.
CYPD2121, CYPD2125, CYUSB3610, CY7C65210 and CYUSB3304 are in production. Need help? Ask a question and find answers in the Infineon Developer Community.