Overview
CYBT-483039-EVAL EZ-BT Module Arduino Evaluation Board
The EZ-BT Module Arduino Evaluation Board (CYBT-483039-EVAL) enables you to evaluate and develop applications on the EZ-BT WICED™ Module, CYBT-483039-02. CYBT-483039-EVAL can be used as a standalone evaluation kit or can be combined with Arduino compatible shields.
Configure the evaluation board headers/switches to the desired settings
Connect the evaluation board to a PC via a USB cable
Refer to KBA223747 for platform files, Makefile target generation, and HCI UART switch position setting for programming
Open the WICED™ Studio SDK, develop your application, program and test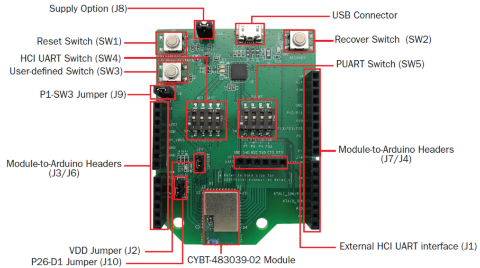 Arduino compatible shields can be connected through the Arduino compatible headers (J3/J4/J6/J7) to provide additional I/O connections and functionality.
1 X EZ-BT Module Arduino Evaluation Board (CYBT-483039-EVAL) with on-board EZ-BT WICED™ Module (CYBT-483039-02)
1 X USB Cable