Overview
Best-in-class RMS jitter performance, low-noise PLLs, easy frequency margin testing, and SSXO
Infineon offers High-Performance Programmable Oscillators, which can be customized for any frequency up to 2.1 GHz, with best-in-class RMS jitter performance of 110 fs.
The oscillators are offered both in wafer/die and industry-standard packages, widely popular in the networking space.
With global network traffic expected to increase in the coming years, Ethernet line rates will increase dramatically in routers and switches. Our High-Performance Programmable Oscillator meets all the new reference clock requirements of faster Ethernet data transfer standards.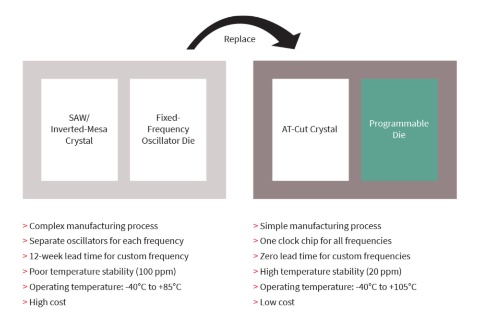 1 PLL, 1 output
VCXO functionality
Frequency Select
RMS phase jitter : 110 fs
Pin select and I2C programming
Field and factory programmable
Operating temperature: -40℃ to 105℃
Operating voltage: 3.3V, 2.5V and 1.8V
Operating frequency: 15MHz to 2.1GHz
Available in 8 LCC and 16 QFN packages and in Die form
Output formats: LVPECL, LVDS, HCSL, CML, LVCMOS