OneThinx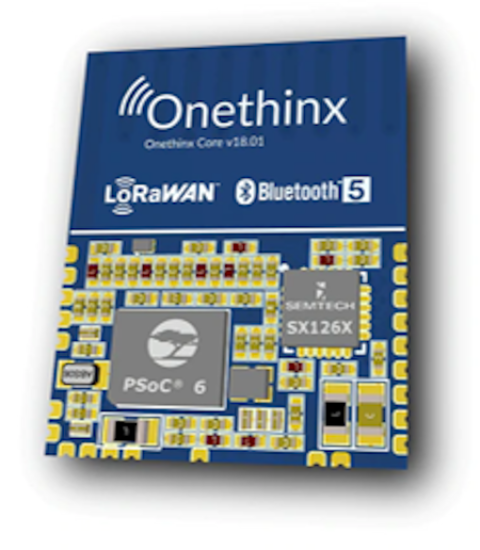 What we do
Help you develop successful, profitable and most secure LoRaWAN® IoT solutions within ultra-short time to market.
How
Everything you need is there: the Onethinx LoRaWAN® module + most comprehensive support on every project stage.
Why
To introduce a standard for creating LoRaWAN® things that helps you to be successful with your project. No hassle anymore of a tiring and costly development process.
Infineon PSoC 6 , Semtech® new low power SX126x chipset (SX 1262 for US), dual ARM® Core processor (150MHz / 1MB Flash/256KB SRAM; LoRaWAN® stack runs isolated from user code for ultimate security), integrated antenna (eliminates radio certification at system level). Bluetooth BLE 5.0. Designed for extended battery life with just 4.2 mA of active receive current consumption
Tailored for LoRaWAN® projects that require ultra-secure end-to-end encryption combined with robust LoRaWAN® functionality. Supports secure boot, secure firmware updates and runtime security.
Includes PSoC® 6-optimized LoRaWAN® stack for best performance.
Also available: PSoC 64 with LoRaWAN® stack pre-programmed!
The Onethinx module unburdens the developer from being a security expert and enables you to build any LoRaWAN® application with an ultra-short time-to-market.
ONLY LoRaWAN® module in world that is PSACERTIFIED™ Platform Security Architecture defined by ARM using the three-levels of hardware-based resource isolation.