Rainforest Connection
Rainforest Connection (RFCx) is a non-profit organization that uses acoustic technology, Big Data and Artificial Intelligence / Machine Learning to enable on-the-ground partners to save the world's most threatened rainforests and habitats. Saving rainforests isn't only the key to halting climate change, it's also vital to supporting many of the world's poorest communities who rely on rainforests for food, shelter and livelihood.
Project details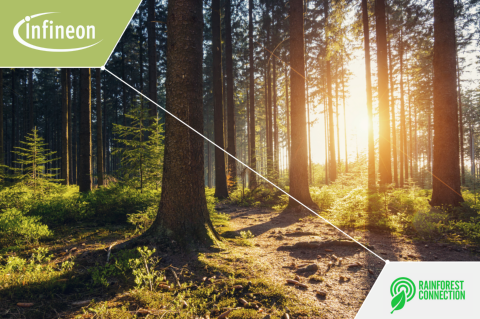 In this joint collaboration, RFCx is exploring the use of Infineon's gas sensing technologies to elevate and expand upon the capabilities of their current acoustic listening devices used to monitor and protect vulnerable rainforest ecosystems. RFCx and Infineon are working together to evaluate how Infineon gas sensors can be leveraged to detect forest fires and monitor general forest health.
RFCx's scalable, real-time monitoring system protects and studies remote ecosystems through an approach using acoustic sensors, AI / Machine Learning, and will soon include Infineon's gas sensing technologies. This approach empower partners on the ground to act.
Saving rainforests is the key to saving our planet. Partners on the ground need real-time data to be able to serve as forest caretakers and be alerted when there is a threat requiring immediate action.
Explore with RFCx using our multi-gas sensors to detect various gases related to forest health monitoring and wildfire detection.
Infineon's gas sensors will potentially allow RFCx and its partners to monitor forest health and detect fires in real-time. The platform streams data within the natural and remote regions of the world to local partners on the ground.