Join us at the pulse of technology
The Junior Talent Program
Our Austrian trainee program for top technical graduates
Infineon is synonymous with innovation – and products that make the world easier, safer and greener. How, you might ask? They help people pay contactlessly and securely for their tickets in the London underground. They allow activity trackers to precisely measure your heartbeat. They help your car park itself. And they make it possible to send your friends 3D photos. But we don't rest on our laurels. At Infineon, we have our sights set on the future – and that's where you come in.
Infineon in Austria has created the Junior Talent Program (JTP) to give young talents a chance to develop their personal strengths and knowledge of the semiconductor business. The trainee program has been designed for university graduates in technical and scientific fields, and it prepares them to take on a predefined position. The JTP lasts 18-24 months - a time packed with a whole range of learning experiences.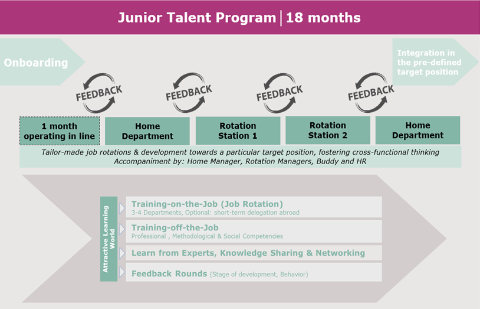 Examples: Individual job rotations give you exposure to a number of areas at Infineon. In addition, on- and off-the-job training allows you to develop a host of new skills. Regular feedback sessions offer you a chance to discover your strengths and identify areas for improvement.
During the entire time, human resources, your home manager and your buddy accompany your journey and give you guidance on planning your next career steps. And if that isn't enough, the JTP is full of opportunities to build up a network among some of the most talented people in the industry.
Have we piqued your interest? You can find all open JTP positions at our job search
Do you have questions about applying to Infineon? Then have a look at our application FAQs:
https://www.infineon.com/cms/en/careers/application/
The JTP at a glance:
Individual and tailor made
Regular feedback rounds
Cross-functional job rotations
Comprehensive training options
Target-oriented networking activities
Our tailor-made trainee program offers top graduates attractive entry-level opportunities. Job rotations, targeted network building, training measures, regular feedback loops and knowledge-sharing activities prepare young talents to take on challenging positions. Personal interests and goals, technical competencies and potential fields of activity are taken into account.