Research & Development Opportunities at Infineon
23.11.2022 I Patrick Cruise, Sr. Director, Bluetooth IP Development for IoT Compute and Wireless at Infineon Technologies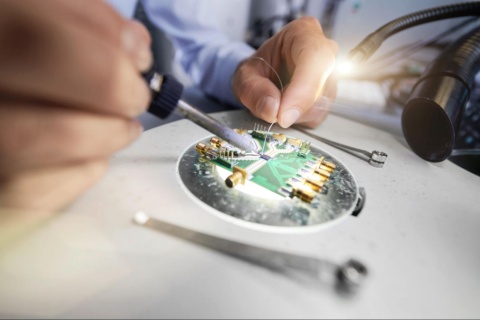 At Infineon, we all have a unique role to play, and everyone gets a chance to share the stage. Ideas thrive here, and so do people because we make it our priority to set you up for success.
When you join our team, we invest in you as a whole person. Throughout your journey, we'll enable and empower your continuous learning and development with programs and opportunities designed for growth—so you can achieve your goals and stay one-step ahead of change.
We want you to join us and unleash your brilliance!
Department Overview
We lead by example. Infineon is a market share leader in four major industry categories: industrial electronics, automotive electronics, sensor technology, and security. In addition, we're also rated #1 across multiple technology segments.
As a part of our Research & Development department, you'll be upholding Infineon's mantle of global microelectronics in the U.S.
You'll be working in a number of microelectronic subdivisions, including but not limited to:
More efficient and smaller energy-saving microchips

Safe, smart, and clean vehicles

Analog mixed-signal solutions

Industrial microcontrollers

Secure data transmission

Micro-3D cameras
How You'll Contribute
As a part of the Infineon R&D team in the U.S., you'll innovate for a better tomorrow in one of four divisions: Automotive, Industrial Power Control, Power & Sensor Systems, and Connected Secure Systems.
On the automotive side, you'll be developing advanced microelectronics to enable cleaner, safer, and smarter vehicles. Industrial power control engineers work with solar energy systems, power supplies, home appliances, and industrial power drives to work towards unlimited green energy. As for power and sensor systems, you'll be driving cutting edge power management, sensing, and data transfer technologies for automotive, consumer, and industrial uses in power supplies and mobile devices. Lastly, our connected secure systems operations put us at the center of the IoT—here, you'll be engineering security for IoT, government identification, mobile communications, smart cards and security, and much more.
The future is always evolving. We evolve with it. As part of the Infineon team, you'll get to work with other brilliant minds on pioneering projects that help solve the technological, economic and social challenges facing the world today —making our world easier, safer and greener for generations to come.
How You'll Grow With Us
As an integral part of Infineon's Research & Development operations, we'll take genuine care of you. Our modern benefits package takes the "new world" into account by offering flexible schedules, childcare support, and company perks that take your benefits to a whole new level of employee care. We also prioritize diversity, equity, and inclusion throughout our organization, as well as an equitable work-life balance to keep your well-being in a thriving state. Not only will you change the world with Infineon—you'll feel valued while you do it.
Success Stories
Thomas, a Quality Engineer, believes that the innovation projects he works on at Infineon are the brightest highlight of his work, aside from the exciting nature of his position: "To be at the forefront of things like electromobility is an honor and my passion. Another definite highlight is the rich variety of tasks I encounter in a single workday. There is constant movement, from changes in my schedule to shifting tasks."
A better future relies on the actions we take today. At Infineon, our collective work makes life easier, safer, and greener—with technology that achieves more, consumes less, and is accessible to everyone—impacting lives everyday. Let's shape the future together.