Presence detection and sensing
Overview
High performance turnkey sensing solution powered by 60 GHz radar - high accuracy in detecting micro / macro motions
Infineon's radar presence detection solution enables your application to detect human presence within a configured distance. Powered by our XENSIV™ 60 GHz radar with its sophisticated radar presence detection embedded software, the solution provides exceptionally high accuracy in detecting both micro and macro motions.
Infineon's radar presence detection solution is highly sensitive and senses micro and macro motion movements within a range of max. 5 meters. It offers unique benefits over conventional technologies deployed to detect human presence, such as PIR (passive infrared). The ability to detect micro-movements makes it perfect for intuitive user interaction with devices, as users no longer have to wave in front of sensors to ensure that your application reacts to customers' needs.
Gain market and technology advantage for your application with Infineon's high-performance tested and qualified presence detection solution.
Applications
Smart Home – reading lamp, smart toilet, lighting, smart thermostat, smart appliances display
Smart TV
Notebook, PC, monitor
Products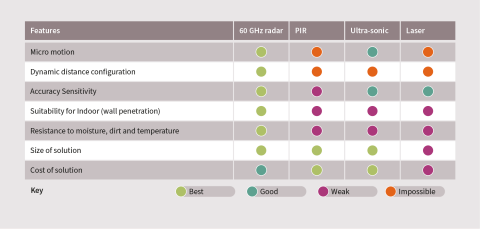 Infineon's solution is robust and can be used also outdoors. However, a wider detection range might be required for some outdoor applications. If you need a wider range, check out Infineon's 24 GHz industrial radar solutions.
The presence detection solution, based on XENSIV™ 60GHz BGT60TR13C radar brings the following features and benefits to your application:
Features of Infineon Presence Detection Solution
Benefits for your application and its design
Dynamic distance configuration
Individual detection range's configuration

Micro motion detection (up to 5 meters)

Macro motion detection (up to 10 meters)

Reliable presence detection even when the person is standing or sitting still long
Wide field of view:
Vertical +/- 40°
Horizontal +/- 45°
Suitable for a variety of applications
No video recording needed
Complete privacy for your customers
Robustness
Performance not affected by dust, smoke or temperature
Concealed integration
It can be covered by most materials and be built-in in your application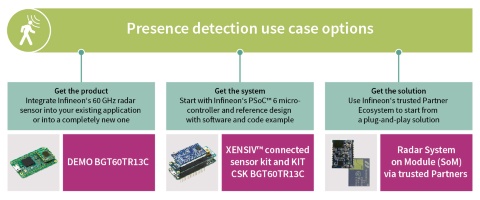 Infineon provides various options so you can get started with the tested and qualified presence detection use case and develop differentiated products within record time.
Choose your path based on your need.
Boards
Turnkey solutions via partners
The presence detection solution evaluation kit and System on Module (SoM) based on XENSIV™ BGT60TR13C radar is available via partners.
60 GHz Radar Presence Detection evaluation solution is a convenient way to get started with presence detection. With an easy configuration tool, you can configure range and sensitivity. The evaluation kit consists of a System on Module (a ready-to-go 60 GHz radar presence detection module) and an I/O board.
The evaluation solution ensures that your final product is well tested and evaluated by you. With its micro USB port, the System on Module is simple to configure and gives the possibility to change various parameters like Standard- and Expert mode.
Key Features:
Ready to evaluate- Pre-flashed with presence detection firmware for out of the box evaluation experience
Interfaces -Easy interface to the PC using USB
Small size - for easy evaluation
Easy Configuration – GUI based configuration tool for range, sensitivity modification
Infineon's radar presence detection SoM enables the detection of human presence within a configurable range. Micro-movement detection like typing in front of a notebook and macro-movement detection like walking inside a room can be detected.
Presence detection solution FCC certifiable and TELEC certified. A key benefit is the small size of which guarantees an easy integration.
At Infineon, we believe that we go faster if we go together. We are always looking for partners to help us scale our presence detection solution in various market segments. Furthermore, Infineon supports partners at each step of the design journey.
Discover the advantages of joining our comprehensive and sustainable partner program.