PoE Power Sourcing Equipment (PSE)
Overview
Power sourcing equipment enables to source power along with data on twisted-pair Ethernet cables
Technological advances and the newly introduced IEEE 802.3bt standard increase the power that can be delivered via Power over Ethernet to up to 100W per port. This development creates new challenges for the design of main power supplies for PoE Power Sourcing Equipment (PSE).
Either upgrading existing Ethernet designs to integrate PoE or adding a limited number of IEEE 802.3bt compliant PoE ports already adds significant power demand to the overall power budget.
Depending on the overall power demand and power supply topology, we distinguish two power classes for Power Sourcing Equipment.
Power sourcing equipment below 250W with Active Clamp Flyback topologies for the main power supply. Due to the limited amount of available power, cost-optimized solutions can be implemented for a limited amount of supported IEEE 802.3bt compliant PoE ports.
Power sourcing equipment above 250W with resonant LLC topologies for the main power supply with the highest requirements for overall system efficiency. For supporting an extensive amount of IEEE 802.3bt compliant PoE ports, a highly flexible and reliable power supply is needed.
Highlights
Spotlight on Power Semiconductor Offering for 802.3bt Power over Ethernet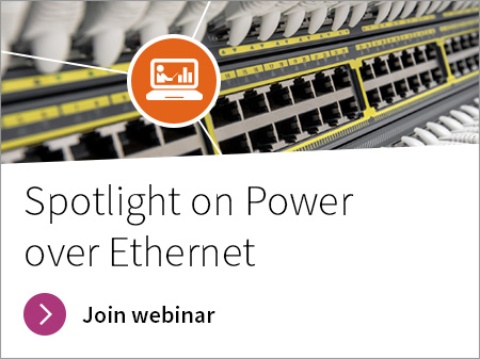 Join this webinar to learn more about the latest IEEE 802.3bt standard for Power over Ethernet (PoE) and upcoming opportunities in emerging markets such as smart buildings. We will talk about the basics of the new PoE specification, the increase of power levels up to 100 W per port and the changes it entails for power supply and system designs, both for power sourcing equipment and powered devices.