Servo motor – controller and driver
Overview
Semiconductor solutions providing quality, intelligence and efficiency
Whether your servo application is in industrial automation, robotics, CNC machinery or automated manufacturing, what you really need is a sophisticated, high-quality servo motor capable of top energy efficiency and reliable performance. Leading semiconductor solutions from Infineon's vast portfolio let you have it all: quality, intelligence, efficiency – and the price you demand. Discover what your servo motor can achieve when you choose servo drivers, microcontrollers and more from Infineon. See additional motor control applications here in industrial automation.
A servo motor is made of a compatible motor coupled to a sensor that gives feedback about the position. In addition, it necessitates having a refined controller specifically designed for servo motor use. As a rotary actuator, it enables precise control of the position, velocity and acceleration. A unique characteristic of the servo motor is that it consumes power while rotating to the desired position and then rests upon arrival.
Products
Example application for servo motor control and drives (integrated)
Hover over the diagram to see recommended products
Example application for servo motor (discrete)
Hover over the diagram to see recommended products
Converter system diagram for industrial drives
Hover over the diagram to see recommended products
Key characteristics
High-performance alternative to stepper motor
Encoder and controller for optimized speed, power and accuracy
Sophisticated controller required
Power consumption only while rotating to requested position
Highlights
Application presentation: we drive efficiency in drives - our expertise for your optimal drive systems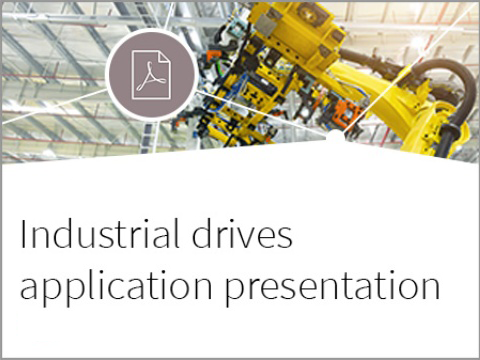 This detailed presentation will give an overview of the extensive product portfolio for industrial drive applications. The advantages of IGBT 7 technology, as well as Silicon Carbide solutions, are also presented. Everything in one document, including further links.