Motor control for industrial automation
Overview
Common industrial automation applications include food, packaging, logistics systems, tool machines and robots, among others. To achieve higher demands in terms of dynamic behavior and precision, industrial automation heavily relies on industrial AC drives and servo drives. With an Infineon XMC microcontroller at the center of a top-caliber motor control system, it can quickly compute cascaded control tasks, and measure current, position, and speed with ultimate precision. The heavy demand load occurs in real-time, which requires a highly capable system. Boost your industrial automation applications with motor control solutions from Infineon, like our OptiMOS™ and CoolMOS™ MOSFETs, Power Control ICs, and EiceDRIVER™ Gate Driver.
Products
System diagram industrial automation motor control and drives
Hover over the diagram to see recommended products
Converter system diagram for industrial drives
Hover over the diagram to see recommended products
Highlights
Application presentation: we drive efficiency in drives - our expertise for your optimal drive systems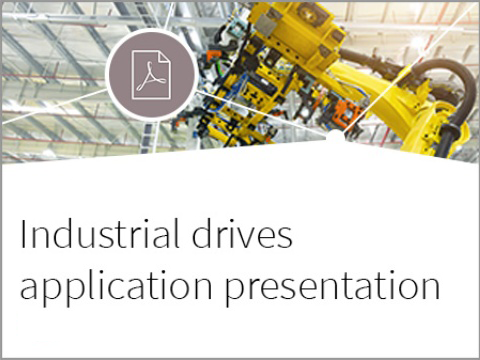 This detailed presentation will give an overview of the extensive product portfolio for industrial drive applications. The advantages of IGBT 7 technology, as well as Silicon Carbide solutions, are also presented. Everything in one document, including further links.