Wireless charging – power transfer
Overview
Safe and efficient wireless charging solutions for inductive and resonant topologies
Our portfolio comprises a broad selection of leading semiconductor products that address application requirements for wireless charging, ranging from just a few watts up to kilowatts. These products include:
Backed by our end-to-end application expertise, we offer safe and efficient wireless charging solutions for inductive and resonant topologies.
Experience the endless opportunities of wireless charging
The endless opportunities of wireless charging

Notebook and tablet

At Infineon, we've got the solutions you need for your notebook and tablet applications. Our products provide the power, flexibility, efficiency and easy integration required to charge the thinner, portable, more powerful devices.

The endless opportunities of wireless charging

Power Tools

The power tools industry is a highly innovative and competitive sector. Manufacturers are facing increasing pressure to offer the latest technologies at a fair price. Wireless charging will be an innovative leap forward in this segment.

The endless opportunities of wireless charging

Service robot and drones

Infineon is having the right products to serve the highly promising emerging markets of drones and service robots. As a leading semiconductor provider, we offer full wireless charging solutions that includes every essential semiconductor component.

The endless opportunities of wireless charging

Small kitchen appliances

Energy-efficient, modern-looking, wipe-clean and hermetically sealed surfaces are just some of the characteristics that design engineers have to pack into single, small home appliances. Infineon offers solutions for a range of applications.

The endless opportunities of wireless charging

Smartphone charging (in-cabin/table-top)

Wireless smartphone charging has become hugely popular in recent years. Infineon has developed two 15 W Qi transmitter solutions (WPC Qi v1.2.4 certified) to charge your phone at home, in the office, in public spaces or even in the car.

The endless opportunities of wireless charging

Telecom infrastructure and security applications

Wireless charging can even pass through solid surfaces, making it the perfect solution for reducing overall deployment costs and simplifying the installation of 5G routers, security cameras, telecom infrastructures and factory automation products.

The endless opportunities of wireless charging

Wearables

Wearables are electronic devices that are comfortably worn on the body. Infineon's 2 W inductive and 2.5 W resonant solutions enable wearables to be easily charged without any physical connections to a power source.
Wireless charging automotive

In-car charging

Driver comfort, convenience, and safety are advancing the growing presence of wireless in-car charging in the latest generation of cars. In fact, it's predicted that most cars will have the feature in the very near future.
For application requirements, ranging from just a few watts up to kilowatts
There are many reasons why you should include wireless charging into your application. There are, of course, the obvious ones – you no longer have to plug in your device or worry about plug compatibility issues. But wireless charging is also safer since there is no contact with exposed electrical connectors. What's more, wireless charging is more reliable in harsh environments such as industrial and outdoor locations because it enables completely sealed system designs. And with wireless charging technology becoming more widespread in public spaces and in private and public transportation, you can quickly and easily charge your devices on the go. You can also charge multiple devices without having to untangle charging cables.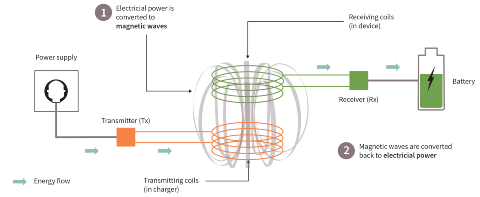 Wireless charging is a complex subject that requires in-depth system knowledge and expertise. Designers have to understand antennas and how they interact with surrounding structures. To successfully transfer power wirelessly, the power delivery has to be precisely controlled. By working closely with our experienced partners, we can help customers master all design challenges, including:
Compatibility issues
Safety issues
Smart heat management
Increasing efficiency and reducing charging times
Preventing device and battery damage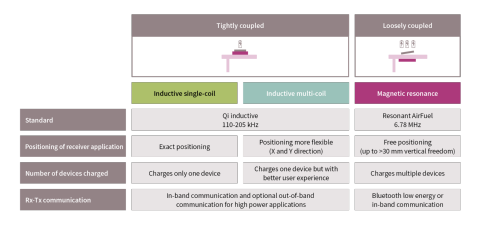 The two wireless charging standards currently adopted in the market are inductive and resonant charging:
Highlights
The trusted authentication solution for wireless charging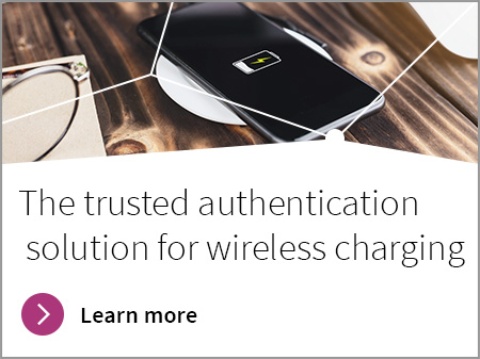 An increasing number of products and applications support wireless charging – driven by its obvious ease and convenience. However, an inaccurate power supply can be harmful to the device and, worst case scenario, even to the user.
Wireless Charging: Highly integrated Wireless Charging ICs and solutions from Infineon