Scalable and plug and play reference solutions for two stage LED drivers
Overview
Modular LED lighting reference designs for LLC, buck and PFC flyback topologies
LED lighting has become a mature technology with stringent requirements on light quality. In order to achieve high light quality, there is a strong trend towards two-stage topologies. These two-stage topologies ensure that the light flicker or also called light ripple remains at low levels according to IEEE1789 and other new upcoming regulations. Within the dual-stage topologies, there is one topology that stands out due to its numerous advantages.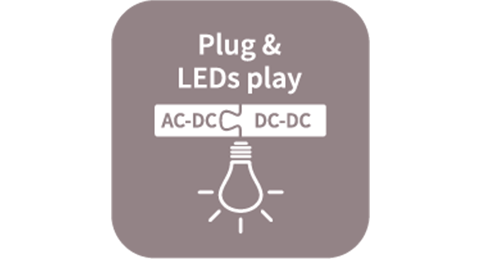 Primary constant voltage output, followed by a DCDC buck, enables benefits with regards to dimming, efficiency, cost, and scalability. The power range can be scaled by deploying:
single stage flyback with constant voltage output for up to 100W
two-stage LLC with constant voltage output for above 100W up to multiple hundred watts
The features can be scaled by adding an MCU on the secondary to implement diverse features including Dali. Another way to scale features can be adding multiple channels to realize either:
tunable white or
high power levels
Infineon has solutions for both the primary ACDC stage as well as for the secondary DCDC buck stage. These solutions can be combined in a plug & play concept. In other words, depending on the requirements you can select and test the suitable ACDC stage and the best fitting DCDC stage.
In the following, you will find an overview of our existing solutions for both stages. This overview will be adapted once more solutions are available in the coming months.
Training
In this training you will learn about…
• benchmarking performance for PFC and THD at full-load and low-load conditions
• how ICL88xx enables window drivers and platform designs