Sports watches delivering real-time insights for fitness tracking and smart diagnostics
Overview
Fitness analytics on the fly to incentivize sports enthusiasts
Sports watches take fitness and health tracking functionality to the next level. Increasingly equipped with cutting-edge features, sports watches track health even when the wearer is asleep. By capturing sensor data precisely, reliably processing it, and intelligently analyzing it, these wearables give today's fitness enthusiast the real-time insights they need to analyze their progress, improve performance and even support smart diagnostics.
Everything you need for smart sports watch designs
Sensing accuracy is the biggest design challenge for today's sports watch as these wearables measure everything from body temperature and heart rate to blood pressure and even blood sugar levels. Security is also key as activity and location tracking merge with contactless payment, access control, and ticketing. In addition, easy visualization is essential as sports fans want to view meaningful, contextual notifications and updates on the go – without having to stop and check or adjust screens.
Here at Infineon, we have the RF, sensor, connectivity, power, memory, and security solutions you need to power the success of your sports watch design. Take a look at our system diagram below and browse our portfolio to find the right solutions for your sports watch design.
Highlights
Application brochure: Smartwatch, sports watch, wristband, and medical wrist-worn devices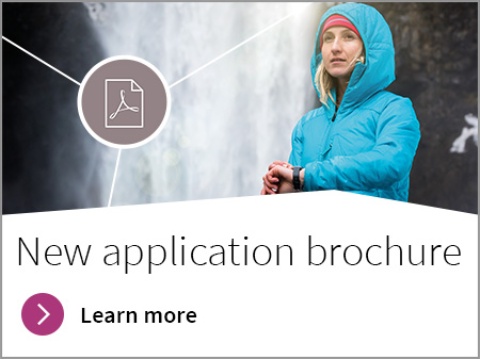 Infineon is a power semiconductor leader for IoT devices. With our broad product solutions and portfolio, you can solve design challenges such as data security, sensor accuracy, connectivity, device protection, all while enabling best-in-class power consumption and IC form factor.
On-Demand Webinar: Memory Solutions for wrist-worn devices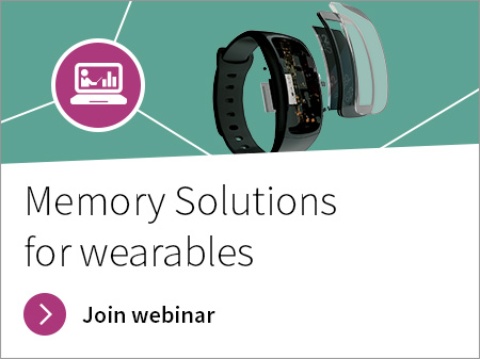 This webinar will teach you about functional design blocks and innovative use cases for wearables enabled by our broad product portfolio. Get an overview of memory solutions, and how it is superior to the competition and understand the details of NOR Flash technology with SEMPER™ Nano, typical design challenges for NOR Flash, and how SEMPER™ Nano can fulfill these requirements.