Smartwatches that pack more performance and security into smaller footprints
Overview
Riding the smartwatch integration trend
They may look like normal wristwatches, but smartwatches can do so much more. A rich and expanding set of functions and features is being packed into ever-shrinking, aesthetically appealing high-tech devices that tell users everything they need to know – on the go. At a glance, users can check smart, contextually relevant content such as notifications, news tickers, appointment alerts, payment confirmations, fitness updates, and the such like. Complementing location and fitness tracking, these devices also increasingly integrate health-monitoring features now, which greatly appeal to older generations in particular.
Meeting modern design challenges for smartwatches
The rapidly evolving number of use cases in multi-application form factors presents new design challenges. Data security is of course a top priority as smart payment blends with ticketing, notifications, voice calls, smart access, and wireless charging. Our extensive portfolio includes all the components needed to create highly efficient, safe, and innovative solutions supporting current and evolving use cases. You can rely on Infineon for exceptional sensor accuracy, longer battery lifetimes, smallest form factors, and robust security. Our XENSIV™ sensors, for instance, are designed for ultra-precise altitude measurement, location tracking, step counting, and body motion detection, clearly differentiating between everyday movements and a fall event.
Take a look at our system diagram below and browse our portfolio to find the right solutions for your smartwatch design.
Highlights
Application brochure: Smartwatch, sports watch, wristband, and medical wrist-worn devices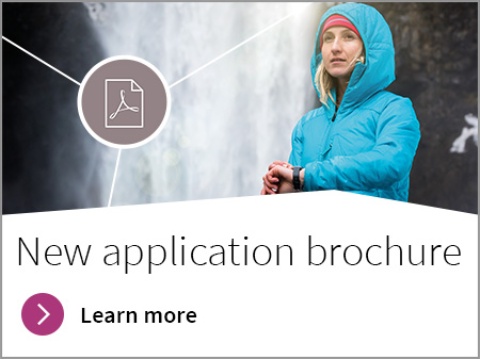 Infineon is a power semiconductor leader for IoT devices. With our broad product solutions and portfolio, you can solve design challenges such as data security, sensor accuracy, connectivity, device protection, all while enabling best-in-class power consumption and IC form factor.
On-Demand Webinar: Memory Solutions for wrist-worn devices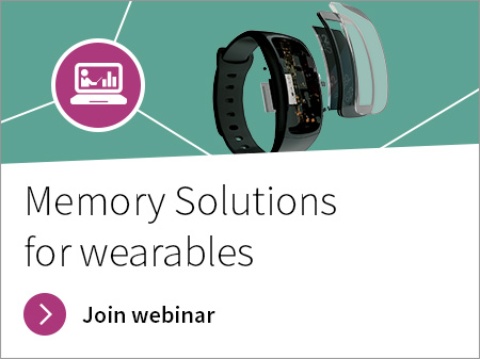 This webinar will teach you about functional design blocks and innovative use cases for wearables enabled by our broad product portfolio. Get an overview of memory solutions, and how it is superior to the competition and understand the details of NOR Flash technology with SEMPER™ Nano, typical design challenges for NOR Flash, and how SEMPER™ Nano can fulfill these requirements.