Overview
Please choose a subcategory
In the emerging 48V conversion ecosystem for Datacenters and AI applications, Infineon offers a whole system solution to enable efficient conversion with market-leading power densities from 48V down to the point of Load.
Within the 48 V power-delivery architecture, Infineon provides new intermediate bus converter (IBC) solutions, so-called HSC and ZSC, for high efficiency and high power density applications. Infineon's 48 V architecture is focused on mass production for hyperscale data centers and AI servers. This enables Innovation across the whole power conversion chain by optimization of discreet MOSFETs, driver ICs and controller ICs.
Explore our interactive infographic below
48V Power Distribution

48 V

Moving to 48 V bus-rail reduces I²R losses enabling high efficient and power-dense intermediate bus converter (IBC) solutions.

48V Power Distribution

HSC topology

The hybrid switching capacitor (HSC) converter is enabling high step down conversion at high efficiency. By combining switching capacitor cells with a novel magnetic component, HSC can reach market-leading power density.

48V Power Distribution

ZSC

The zero-voltage switching switched capacitor (ZSC) converter is enabling load-independent soft-switching and soft-charging. It can be configured to address multiple output voltages.
Need for higher power density & switching frequency - Infineon's hybrid switched-capacitor (HSC) converter solution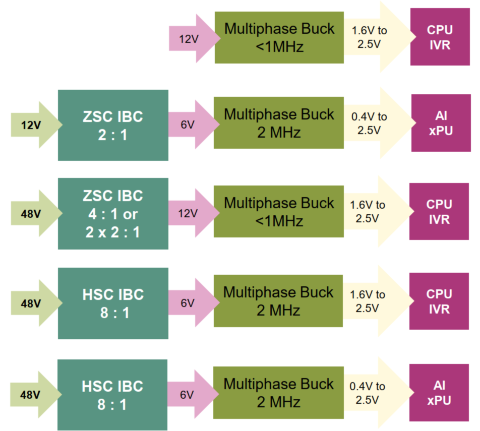 The majority of today's systems are designed and optimized for a single-stage approach from 12 V bus-rail to Vcore . The introduction of the new 48 V distribution architecture can significantly reduce I2R losses, however, poses many challenges. With the introduction of ZSC and HSC topologies, Infineon is trying to solve those challenges.
ZSC topology is providing a 12 V unregulated rail from 48 V bus voltage. ZSC primarily rely on switches and capacitors to transfer the energy from a higher voltage rail to a lower one. ZSC inherently ensures zero-voltage switching operation enabling high switching frequency and high power density.
With the reduction of the footprint requirements, close to the digital load, high switching frequency a lower voltage input at multiphase buck level is needed. For higher conversion ratio Infineon has introduced a hybrid switched-capacitor (HSC) converter that combines the benefits of switched capacitor converters and the high step down ratio capability of a magnetic device. By transferring the energy through capacitors and a magnetic device, the efficiency and power density can be improved significantly. However, the requirement of high power density close to the digital load is also needed from 12 V bus rails. For such application 2:1 ZSC is a valid solution due to its extremely high power density at high efficiency.