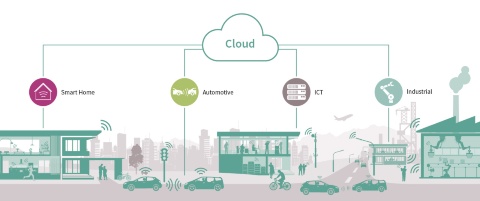 Security promotes trust in and between connected IoT devices and is a prerequisite for their mainstream adoption. Security solutions give "things" a trustworthy identity and enable the growth of new business models. They protect sensitive data, intellectual property and personal privacy, and can contribute significantly to public safety. Infineon's security portfolio extends from hardware-based root of trust to trusted execution environments and secured boot. Infineon is in a position to offer personalization and injection of certificates and keys in a secured, certified environment. This makes security easy to implement while shortening development times – all without detracting from the ease of use.
Try the new OPTIGA™ Trust M IoT security kit - the easiest way to develop and evaluate end-to-end security use cases for your IoT devices. The kit enables customers to prototype various security use cases and build full-featured IoT applications.

The board includes:
- OPTIGA™ Trust M security solution
- PSoC™ 62, an Arm® Cortex®-M4/M0+ microcontroller
- AIROC™ CYW43012 Wi-Fi & Bluetooth® combo chip is a low power device that supports dual-band (2.4 and 5.0 GHz) Wi-Fi and Bluetooth® 5.0.
Networks, servers and IT infrastructure function as the brain and backbone of any IoT system. Since information and communication technology (ICT) systems live from data flowing in and out, they are, by nature, vulnerable to attacks. The dynamic ICT infrastructure behind IoT therefore requires a system-level security solution to enable secured end-to-end communication. Embedded security solutions such as Trusted Platform Modules (TPM) answer the demand for reliable ICT security. To connect IoT devices securely at scale to the cloud and other IoT services and smart things, embedded security is key. Especially as more and more devices - millions in the meantime - are connected to the IoT, consumers and manufacturers need to be sure that the identity of each and every device is genuine and secured. Both, the identity and integrity of all systems in a cloud-connected system needs to be protected. Infineon provides all the necessary products and solutions for this necessary protection that is the very basis for secured cloud connectivity and essential to enable secured zero-touch provisioning and secured lifecyle management of IoT devices. How does a smart home differ from a regular home? A smart home is equipped with technologies that make our lives more convenient and energy efficient. But with the rise of connectivity it is important to secure all the smart devices within a smart home. Unprotected smart home devices are a very attractive target for attackers who could break into home networks, steal and misuse sensitive personal data and even gain unauthorized access to smart homes. Moreover, connected smart home devices can be misused for larger scale attacks, such as DDOS attacks, that can take down entire server networks. We offer the right, easy to implement security solutions for smart, always-secured homes. We meet the evolving security needs without compromising on convenience. Smart wearables and IoT devices are becoming increasingly popular as they accommodate more and more functions on smaller footprints. Our SECORA™ Connect family brings NFC security capabilities to smart wearables and accessories, enabling users to securely provision, store, select, and use multiple credentials such as payment cards and transport tickets. This complete turnkey solution allows smart wearable system designers with no security or antenna design experience to seamlessly integrate a very compact, ultra-low-power solution supporting various NFC-based applications. As door locks can be accessed from the public space, it is imperative that they are secured with a tamper-resistant hardware trust anchor. Infineon's OPTIGA™ Trust product family supports a host of important security features including mutual authentication, secured communication and secured firmware updates. Customers rely on connected devices that depend on safe and secured NOR Flash technology prevent accidents, to secure critical data & user privacy, to prevent component counterfeiting and secure infrastructure. Embedded system designers must establish protection levels that are compliant with the latest security standards. They must protect device integrity and access, and manage the confidentiality, authenticity, and availability of code and data. The advanced, secured, and easy-to-use SEMPER™ Secure NOR Flash portfolio of delivers security, safety, and reliability to connected vehicles. It is built on the proven SEMPER™ NOR Flash family, combines advanced security with industry-leading functional safety and reliability, and is engineered to last a lifetime.