15. Matter - revolutionizing the smart home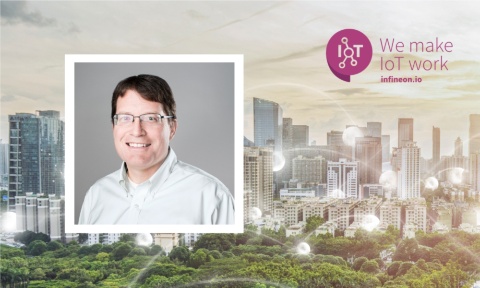 As the number of smart home devices increases, the interoperability between the different products, ecosystems and protocols gets messier. Infineon, CSA, along with 280+ companies, including Google and Amazon, have come together to jointly work on the Matter standard. Matter is well positioned to fundamentally change the existing fragmented connected home. The goal of this game-changing Matter standard is to make ease-of-use, interoperability, security and sustainability a reality in the smart home. With our guest Skip Ashton, a proven expert in smart home technologies, a Distinguished Engineer at Infineon and a member of the Board of the Connectivity Standards Alliance, we talk about this revolutionizing solution.
Transcript
Guest: Skip Ashton, Distinguished Engineer, Infineon
Date of publication: 03 November 2022
Moderator:
The potential of the Internet of Things is well known. But how do we actually implement it? How can people and companies benefit from it? In this podcast, we meet experts from infineon, partners and customers who tell us how it can work and what it takes to Make IoT work.
My name is Thomas Reinhardt, I am your host, and I am excited to have this great opportunity sharing this podcast with all of you.
I know it's still two months away, but hey, Christmas comes every year again faster than expected. This year I want to surprise family with smart devices for their household. My mother raves about a robot vacuum cleaner, my brother would miss a smart coffee maker, and given the current energy situation, smart thermostats wouldn't be bad either. But then I wonder again: hey, how do we get it all integrated into their Home systems. I imagine my mother desperately trying to get her robot vacuum cleaner to work, because it's having trouble working with the WiFi and her smart speaker. Thank goodness there's finally a solution, right Skip?
Guest:
That's right, Thomas. I'm glad we're here today to talk about this and the new Matter standard that is really coming out to help us solve this problem and make our lives easier with these connected smart home devices.
Moderator:
We will, good to have you as guest today, Skip. As a proven expert in smart home technologies, a Distinguished Engineer at Infineon and a member of the Board of the Connectivity Standards Alliance, you can of course offer us particularly good insights into the new standard that is the bridge to connecting different products, protocols and ecosystems. But let's start from the beginning. Why does Matter exist? What is the background, the reason why Matter is needed?
Guest:
Thank you, Thomas. It's really exciting that Matter is coming out and how did we get here. We got here because the large ecosystems Apple and Google and Amazon all have tried to offer smart home solutions but they've had trouble finding critical mass. They really haven't been able to establish themselves in the smart home market and the smart home market hasn't been able to establish itself in our homes. A good example is smart speakers which reached over fifty percent of households within 5 years of their launch in 2016. But smart home applications have been around for 15 years and the most popular devices are in somewhere around 20% of households so far.
And why is that? Why are we having trouble?
A smart home is a very complex system with many different devices, different manufacturers, different standards, different communication protocols and so. You have many light bulbs in your house but they're not all from the same manufacturer. But they're going to work all the same because they have to. And so this complexity, this lack of interoperability means, consumers are afraid to purchase smart devices. And we have to help them with that?
Moderator:
And Matter is now helping to reduce this complexity and solving the problems caused by the various products, ecosystems and protocols?
Guest:
That's right. Matter is a royalty-free new smart home connectivity standard that was initiated by the Connectivity Standards Alliance and it's going to help solve this dilemma. It's designed to make smart home devices from these different ecosystems work together – simply, seamlessly, securely. And with the backing of companies like Infineon, Amazon, Apple, Comcast, Google, and Samsung Matter compatible products are poised to be game changers for companies, manufacturers and consumers.
Moderator:
That sounds great. But now there are so many different smart home applications. For which of them is Matter particularly suitable?
Guest:
The initial release of Matter is really focused on the most common applications thermostats, lighting, door locks, security systems, as well as automated blinds and garage door openers, because these are most commonly used today.
Moderator:
Now, thinking about the problem I mentioned at the beginning about Christmas presents: my mother, my brother, ourselves: we are already having a smart home. How can device manufacturers ensure that the existing smart home devices are backward compatible? In other words, how can they ensure they will get along with the new devices?
Guest:
Yes, all of us early adopters have that problem, right? Many of these existing devices don't have sufficient memory or processing power to be updated through a firmware update. But what's being announced by these major companies is that they're updating the bridge from these devices. So you may have a bunch of lighting devices that are connected and they have a bridge because they were Zigby-based. And that bridge is going to get upgraded so all of those devices will now show up as Matter devices. That's a software update for that bridge, that will give millions of homes immediate access to Matter as all of these major vendors have announced these updates. And better off: customers can now purchase Matter devices themselves. So, get ready for your Christmas tree. We don't have to manually check whether the smart device is going to work in your home anymore. You know whether it's compatible with the system you have because it's compatible with all of the major ecosystems. So this is a real advantage for customers.
Moderator:
Actually, that all sounds pretty compelling. But everyone still has to play along for this to work really smoothly. So is there a plan to get device manufacturers and consumers to adopt?
Guest:
Most of the latest devices use proprietary cloud services. If these go offline, the whole system stops working. Matter gets around that by supporting local control of devices. Matter also allows consumers to move their devices from one ecosystem o another if a consumer wants to change their service. This local control and device openness is a big advantage for consumers and device manufacturers
Moderator:
But if everything now works with everything, won't some of the big and important brands lose their competitive advantage if non-brand products now become compatible through the standard?
Guest:
So if you look at the ecosystems today and what has happened out there for the device makers most of these devices have been using proprietary cloud services. When these go offline the whole system stops working and we've seen that and it hits the news and things like that. Matter gets around this by supporting local control of devices. I don't have to go to the cloud for things and more importantly, consumers can move their devices from one ecosystem to another if they want to change their service. If you look at both, this local control and this device openness, this is a big advantage. Both, for consumers and for device manufacturers.
Moderator:
Thank you very much, Skip, for your exciting insights. Maybe this will now save my Christmas plans and generally lead to our homes becoming smarter after all.
This brings us to the end of this episode.
Dear listeners: If you want to learn more about us and our world of IoT, visit our website www.infineon.io. If you're currently listening to us on Spotify or Apple Podcast, we'd love for you to subscribe to our podcast and leave a little review.
Now it only remains for me to wish you a good time. Take care and see you next time.
***
If you would like to learn more about Matter and Infineon's contribution, please visit our website.