Überblick
Application Examples Unterkategorien
Wireless Control products from Infineon can be used in plenty low power, low datarate sub 1 GHz applications. Besides the comprehensive development tooling, Infineon offers application examples including hardware and software references as starting point to ease and speed up the development.
Details
Wireless MBUS with SmartLEWIS TM Transceiver
Infineons´ Wireless MBUS is a transmission standard for connecting metering devices with other infrastructure, necessary for read-out or transmit measured data. The Wireless MBUS can be used for measuring water, heat, gas, electricity and user specified goods. Transmission is done by using license free frequency bands to allow very cost effective solutions.
Remote Control Transmitter - Two-chip Keyfob / Remote System Example
In case customers are looking for a pure RF transmitter design instead of a single-chip based solution (PMAfob example above), this design example provides hardware and software references for a 434MHz design based on TDA7110F, an ASK/FSK transmitter in a tiny TSSOP-10 package and a third party microcontroller. More
Remote Control Transmitter - Single-chip Keyfob / Remote System Example
PMAfob is a remote control design example for 434 MHz based on PMA, Infineon's single-chip comprising a multiband transmitter with an 8 bit microcontroller. Besides software and hardware examples, PMAfob is an easy to use demonstrator for Home Automation or automotive RKE applications with encryption and rolling codes.
Remote Control Receiver - Receiver System Example
This application example includes beside the RF IC also a microcontroller to form a complete receiver unit for any type of remote control application. The design is based on TDA7210V, a receiver for 434 and 868 MHz in a tiny VQFN-32 package. Together with the PMAfob and a pre-installed software example, this evaluation kit enables a wireless communication link just from the beginning. More
RF Modules
This design example provides the schematics and Gerber files for a 434 MHz receiver RF module in a typical form factor size. The design targets a cost optimized solution for the TDA7210 receiver with cheap external components.
Single Sided PCB Layout Example – Transmitter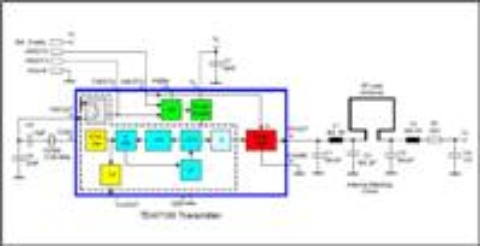 In applications with less stringent RF performance requirements a single sided PCB layout helps to reduce system costs. This layout example provides you the Gerber Files for a 434 MHz transmitter design based on TDA7100. More
RF2IR - RF versus Infrared remotes
This application example named RF2IR illustrates the differences between Infrared (IR) and RF remote control systems. It represents a converter between the two worlds: Receiving RF-commands and transmitting related IR-commands. As such, RF2IR enables an easy start to combine both technologies or to replace IR by RF solutions. More
Wireless Sensing
Diverse application examples like wind speed or temperature measurement systems are showing how easy it is to use Infineon's PMA, a RF transmitter-microcontroller single-chip, for a wireless sensing application. Effectively measure data, transmit wireless, and everything with just one IC.
Please get in contact with us, if you want to know more.