XC88x-Series (Industrial & Multimarket)
Details
The XC88x-Series expands infineon's 8-bit XC800 microcontroller (MCU) family to provide more scalable performance and up to 32 KB Flash memory for cost-sensitive industrial applications. Operating at up to 24 MHz and equipped with a 16-bit vector computer XC886/XC888 MCUs offers 16-bit performance at 8-bit costs.
Key features:
Dedicated for motor control
16-bit Vector Computer (MDU+CORDIC) for Field Oriented Control
10-bit ADC with high accuracy (8-channels). Fast conversion in 1 µs.
Capture/Compare Unit (CCU6) dedicated for flexible PWM signal generation for any kind of motor control
Multi CAN up to 2 CAN nodes
3 independent capture/compare timers with up to 4 PWM channels
Background E²PROM emulation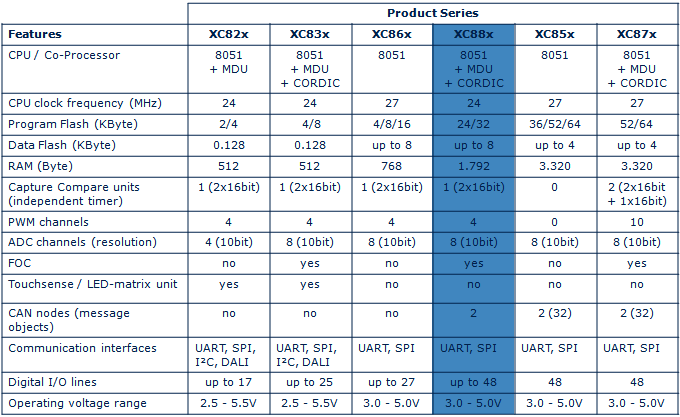 Tools & Software
XC800 Development Tools & Software
All the latest DIPs are available for FREE download on the related Product web page in tab "Tools&Software"/"Development Tools".
Company
Name and
Weblink
Product
Name
Description

DAVE™ (Version 2) – Legacy home
DAVE™ (Version 2) – Legacy
DAVE™ version 2 is the well established Digital Application Engineer from Infineon Technologies supporting XC800, C166, XC166, XE166, XC2000, and the TriCore AUDO family.
Embedded Software Solutions
Videos
Microcontroller Mediacenter


Trainings
Understand how hackers use the CAN bus to interfere with in-vehicle communication, and be aware of how Infineon's AURIX™ microcontrollers support secure CAN communication.

Know the AURIX™ 32-bit multicore microcontroller family
Recognize how it applies to Commercial, Construction and Agricultural Vehicles (CAV)
Be familiar with the safety standards and support models available, and
Know which tools and development kits are available and where to find them.

Identify the AURIX™ first generation target application segments, setting trends and portfolio;
Recognize the basis for AURIX™ high levels of safety and security and, finally,
Understand the AURIX™ software characteristics and its available tools.
32-bit: Tricore®
32-bit: XMC4000/XMC1000®
16-bit: C166, XC166
Operating system and Applications