XC82x-Series (Industrial & Multimarket)
Überblick
NOR Flash
Infineon offers the industry's highest performance, most secure, low-pin-count serial NOR Flash and parallel NOR Flash memories. Our broad portfolio makes it easy to find the ideal solution for your embedded system or FPGA boot code solutions. The industry standard Quad SPI (Serial Peripheral Interface) interface is simple to use and is supported by virtually all modern chipsets. NOR Flash is the ideal memory for code storage in embedded systems due to its fast random read performance. This performance also supports XIP (eXecute In Place) functionality which allows host controllers to execute code directly from the NOR Flash memory without needing to first copy the code to a RAM. Higher levels of serial NOR memory performance have enabled XIP to be used on a wide variety of designs in many applications.
Infineon offers the widest range of military-temperature qualified serial and parallel NOR Flash memories. Infineon backs all of its products with world-class quality and support. For more information go to: https://www.infineon.com/cms/en/product/memories/nor-flash/
| | | |
| --- | --- | --- |
| | Serial NOR Flash | Parallel NOR Flash |
| Density | 64 Mb - 1 Gb | 64 Mb - 4 Gb |
| Interface/Width | SPI / QSPI | x16 |
| Max. Frequency | 133 MHz SDR / 66MHz DDR | 90-130 ns |
| Package Types | FBGA, SOIC | FBGA, TSOP |
| Temperature Range | Commercial, Industrial, Automotive, Military | Commercial, Industrial, Automotive, Military |
SRAM
Infineon offers a complete range of high-density synchronous SRAM families, including QDR/DDR, I and II, No Bus Latency™ and standard pipelined and flow-through products. Infineon delivers the industry's broadest portfolio of 65-nm synchronous SRAMs with speeds up to 1066 MHz. Infineon is also a market leader in the asynchronous SRAM market segment and offers the broadest portfolio of fast asynchronous and low-power asynchronous SRAM (MOBL™) devices. For more information go to: https://www.infineon.com/cms/en/product/memories/sram-static-ram/
| | | |
| --- | --- | --- |
| | Synchronous SRAM | Asynchronous SRAM |
| Density | 9 Mb - 144 Mb | 256 Kb - 64 Mb |
| Width | x18, x36 | x8, x16, x32 |
| Max. Frequency | 1066 MHz | 10 ns |
| Package Types | BGA, FCBGA, TQFP | FBGA, BGA, TQFP, SOJ, TSOP |
| Temperature Range | Commercial, Industrial, Automotive, Military | Commercial, Industrial, Automotive, Military |
nvSRAM
Infineons' nonvolatile SRAM (nvSRAM) integrates the company's proprietary QuantumTrap™ nonvolatile elements into high-performance SRAM memory cells. The memory array is accessed the same way as a conventional SRAM, supporting standard system designs while adding the ability to retain data when power is lost. For more information go to: https://www.infineon.com/cms/en/product/memories/nvsram-non-volatile-sram/
| | | |
| --- | --- | --- |
| | Parallel nvSRAM | Serial, I2C, SPI, QSPI nvSRAM |
| Density | 16 Kb - 16 Mb | 16 Kb - 1 Mb |
| Width | x18, x16, x32 | N/A |
| Cycle Time | 20 - 45 ns | 1 - 104 MHz |
| RTC | Yes | Yes |
| Package Types | TSOP, FBGA, SSOP, SOIC, CERDIP | DFN, SOIC |
| Temperature Range | Commercial, Industrial, Military | Commercial, Industrial |
Highlights
Low-cost solutions for motor control and automation
Details
The XC82x-Series makes the entry level for Infineon's 8-bit microcontroller family XC800.
A comprehensive set of peripherals with 2KB and 4KB Flash memory is now available in low pin count packages.
Communication interfaces and fast control loops with multichannel 10-bit ADCs and PWM signal generation are featured
as well as safety and low power modes. The MDU co-processor boosts up standard 8-bit processing performance.
This enables more efficient and intelligent designs for motor control, lighting or other power conversion applications.
With the I2C interface and the integrated capacitive touch and LED-Matrix control functionality this series expands the feature set
of the XC800 family to fit more industrial and home appliance markets.
Key features:
Functinal unit for touch and LED-Matrix control
MDU co-processor for additional performance and advanced control schemes like sinusoidal commutation of motors
10-bit ADC with high accuracy over 4-channels. Fast conversion in 1 µs
Capture/Compare Unit (CCU6) dedicated for flexible PWM signal generation over 4 channels
ADC trigger by CCU6 enables fast and precise control loops
Serial interfaces: UART, SPI, I2C
Power down/wake up modes
Real time clock
Background E²PROM emulation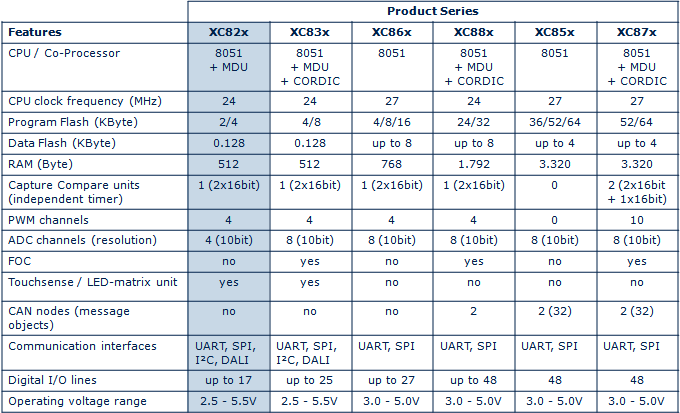 Tools & Software
Embedded Software Solutions
XC800 Development Tools & Software
All the latest DIPs are available for FREE download on the related Product web page in tab "Tools&Software"/"Development Tools".
Company
Name and
Weblink
Product
Name
Description

DAVE™ (Version 2) – Legacy home
DAVE™ (Version 2) – Legacy
DAVE™ version 2 is the well established Digital Application Engineer from Infineon Technologies supporting XC800, C166, XC166, XE166, XC2000, and the TriCore AUDO family.
XC800 Software Partners & Downloads
| Company Name and Weblink | Product Name | XC800 | Description |
| --- | --- | --- | --- |
| port GmbH | CANopen Protokoll Stack | X | Complete CANopen source code implementation of the CiA standards CiA301 and CiA302. Additional CiA device profiles are supported by the company's CANopen Design Tool. |
Product Name
XC800
Version
Description

Manual and Download

DAVE™ Bench
X
See download link
Free and Easy to Use Tool Chain.
DAVE™ Bench is an Eclipse based platform to provide a complete set of free and easy to use development tools and support SW for Infineon Microcontrollers. In this version DAVE™ Bench supports all XC800 derivatives and includes an improved Eclipses CDT IDE, a free SDCC compiler, easy interface to DAVE™, Flash loader, debugger and a UART terminal program with comprehensive protocol and oscilloscope features.
FLOAD
X
v4.7 / v5.3.4
FLOAD is a free-of-charge software program that runs on a PC to download HEX code into Infineon XC800 microcontrollers with programmable non-volatile on-chip memory (OTP, Flash, EEPROM) or volatile memory (XRAM). It is able to program XC800 devices through different types of bootstrap loaders (BSLs), i.e. UART, CAN, and LIN, through JTAG/DAS, and through RS485 as well.
MemTool V4
X
v4.7.3
MemTool is a free of charge software designed for on-chip flash programming. MemTool V4 is supporting the XC800, XC166, XE166, XC2000, TriCore ™, XMC4000 family and the XMC1000 family. This version supports also programming via UART Boot loader for XMC4000 and XMC1000.

Download exe file that includes the installer and the release note:


MemTool v4.7.3 exe download
U-SPY
X
v2.0.2
The U-SPY software allows user to:


View a serial communication through a PC serial Port
Transmit a byte or group of bytes through a PC serial Port
Configure / create the protocol to the transmitted / received bytes
Create dedicated control button, display field, entry field, progress bar and oscilloscope to be able to visualize the communication
Create the specific setting files, to be shared with other user or to be loaded upon the next start of the tool

U-SPY v2.0.2 zip download


(1,7 MB)
XC800 SDCC
X
v2.5.4 B4 R1.6
XC800 SDCC [Small Device C Compiler] is a so called open software compiler tool chain and can be used for XC800 related embedded development applications. Supported microcontroller: XC866, XC886/888. Note: This is a legacy version supporting older devices only, for new devices please use DAVE™ Bench that includes a newer version of SDCC

SDCC_XC800_2.5.4B4_R1.6_Setup.zip
(2.7 MB)
What is Class B?
IEC60730 Annex H Standard
IEC60730 Annex H Standard documents the requirements for electronic controls. It contains detailed tests and diagnostic methods to ensure the safe operation of embedded control hardware and software for household appliances.
IEC60730 Annex H has 3 software classifications for automatic electronic controls:

Class A - Not intended to be relied upon for the safety of the equipment. Examples:
humidity controls, lighting controls, timers.
Class B - Intended to prevent unsafe operation of the controlled equipment.
Examples: thermal cut-offs and door locks for laundry equipment.
Class C - Intended to prevent special hazards, like explosion of the controlled equipment.
Example: automatic burner controls, gas fired controlled dryer.
For Microcontrollers, the IEC60730 Annex H explains the detail of the tests and diagnostic methods to ensure safe operation of embedded control hardware and software for household appliances.

Why Class B?
From Oct 2007, home appliances to be sold in Europe have to comply with IEC60730 standard. Class B applies for the majority of home appliances, e.g. cookers, dishwashers, refrigerators, dryers, cloth washers, fans…
How does Infineon support Class B?
For its XMC and XC800 families Infineon is providing Software Library routines, which can be used for microcontroller internal supervisory functions and for self-diagnostics.
Furthermore this Software Library routines fulfill the requirements according to the Class B standard and were approved by VDE (reference number 5007865-9999-0001/112626).
What is the customer benefit?
The safety features of the microcontrollers offer significant competitive advantages. In particular, the embedded flash module with its hardware error correction (ECC), and the invariable memory tests which are done without the need to implement the time consuming CRC-memory checker routines. The ECC can correct single bit error and can inherently signal such events to the application with every flash access. This increases CPU performance, frees-up memory space and makes user software easier and safer.
The microcontrollers come with a sophisticated clock supervisory feature. The clock control with it's on-chip oscillator and PLL, can detect clock faults such as the loss of lock, or double and half frequency. If clock failure occurs, the system is automatically brought into a safe-state and a signal is sent to the event application.
The features described make an application safer without additional cost and overhead.
How to implement?
A dedicated Software Library provides self test routines which the user can call at system startup or periodically at system run time.
A quick start step by step testing guide on Software Library will be provided to the user.
Videos
Microcontroller Mediacenter


Applikationen
Another good example of the high feature integration with XC800 microcontrollers is this example of a general purpose pump or fan application. The XC878 microcontroller manages field oriented three phase motor control in this sensorless solution. Furthermore, the same microcontroller also performs PFC to increase the efficiency of power conversion. IEC 60730/Class B certification guarantees a proven secure solution for home appliance devices.
Key Features:
Inverter control and PFC
Field oriented three phase motor control
Safety with IEC 60730/Class B compliance
Temperature control
LED display control
Today, still a lot of air conditioners - a true mass market application - are build with low-efficient motor drives and power conversion solutions. This applicaton example shows an improved solution with the use of only two 8-bit microcontrollers.
Key Features:
Inverter control
Compressor restart dely
Outdoor and indoor fan speed control
Overcurrent protection
Temperature control
Power factor correction (PFC)
Temperature arithmetic processing
In the growing market for electronic vehicles like the eBike, low-cost and highly-efficient control solutions are required. In the below application example, the XC836 microcontroller handles the motor control, battery charging and other functions of the ECU. Key features of the controller include symmertric PWM with automatic dead-time for up to three phases, a fast A/D converter that can be triggered synchronously with PWM, hardware-implemented fault handling and automatic Hall-effect sensor decoding and HW noise filter.
Key Features:
High performance motor control @ 48MHz
Symmetric PWM with automatic dead-time for up to 3 phases
Fast A/D converter that can be triggered synchronously to PWM
Hardware-implemented fault handling
Automatic Hall-effect sensor decoding and HW noise filter