XC82x-Series (Industrial & Multimarket)
Highlights
Low-cost solutions for motor control and automation
Details
The XC82x-Series makes the entry level for Infineon's 8-bit microcontroller family XC800.
A comprehensive set of peripherals with 2KB and 4KB Flash memory is now available in low pin count packages.
Communication interfaces and fast control loops with multichannel 10-bit ADCs and PWM signal generation are featured
as well as safety and low power modes. The MDU co-processor boosts up standard 8-bit processing performance.
This enables more efficient and intelligent designs for motor control, lighting or other power conversion applications.
With the I2C interface and the integrated capacitive touch and LED-Matrix control functionality this series expands the feature set
of the XC800 family to fit more industrial and home appliance markets.
Key features:
Functinal unit for touch and LED-Matrix control
MDU co-processor for additional performance and advanced control schemes like sinusoidal commutation of motors
10-bit ADC with high accuracy over 4-channels. Fast conversion in 1 µs
Capture/Compare Unit (CCU6) dedicated for flexible PWM signal generation over 4 channels
ADC trigger by CCU6 enables fast and precise control loops
Serial interfaces: UART, SPI, I2C
Power down/wake up modes
Real time clock
Background E²PROM emulation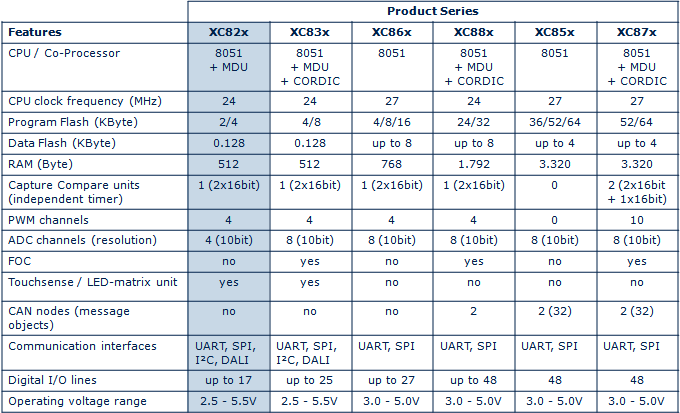 Videos
Microcontroller Mediacenter
Trainings
32-bit: Tricore®
32-bit: XMC4000/XMC1000®
16-bit: C166, XC166
Operating system and Applications
Applikationen
Another good example of the high feature integration with XC800 microcontrollers is this example of a general purpose pump or fan application. The XC878 microcontroller manages field oriented three phase motor control in this sensorless solution. Furthermore, the same microcontroller also performs PFC to increase the efficiency of power conversion. IEC 60730/Class B certification guarantees a proven secure solution for home appliance devices.
Key Features:
Inverter control and PFC
Field oriented three phase motor control
Safety with IEC 60730/Class B compliance
Temperature control
LED display control
Today, still a lot of air conditioners - a true mass market application - are build with low-efficient motor drives and power conversion solutions. This applicaton example shows an improved solution with the use of only two 8-bit microcontrollers.
Key Features:
Inverter control
Compressor restart dely
Outdoor and indoor fan speed control
Overcurrent protection
Temperature control
Power factor correction (PFC)
Temperature arithmetic processing
In the growing market for electronic vehicles like the eBike, low-cost and highly-efficient control solutions are required. In the below application example, the XC836 microcontroller handles the motor control, battery charging and other functions of the ECU. Key features of the controller include symmertric PWM with automatic dead-time for up to three phases, a fast A/D converter that can be triggered synchronously with PWM, hardware-implemented fault handling and automatic Hall-effect sensor decoding and HW noise filter.
Key Features:
High performance motor control @ 48MHz
Symmetric PWM with automatic dead-time for up to 3 phases
Fast A/D converter that can be triggered synchronously to PWM
Hardware-implemented fault handling
Automatic Hall-effect sensor decoding and HW noise filter