KIT_A2G_TC397_S_TRB
Überblick
With this general purpose AURIX™ TC397_S_TRB evaluation board, customers can quickly start to develop, evaluate and test their software. The board features various communication interfaces such as CAN FD, Gigabit Ethernet, SPI, FlexRay as well as to external memories. It also gives access to all the digital and analog IOs available from the LFBGA-292 package of microcontroller.
A downloadable User Manual helps with the installation, use and configuration of the board and includes the schematics and the layout. ( see Documents section )
NEW :
KIT_A2G_TC397_S_TRB in combination with Xilinx's UltraScale+ MPSoC programmable device delivers the perfect combination to solve the rising safety and performance requirements in emerging automotive and industrial designs.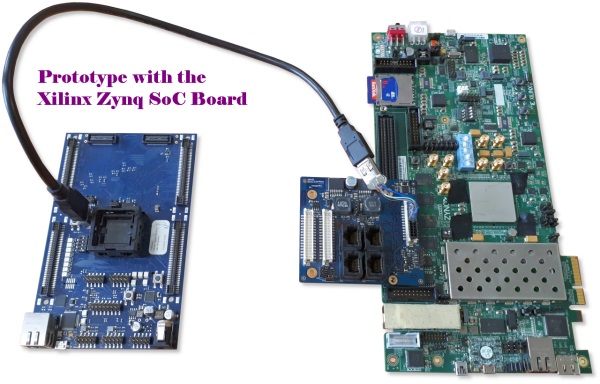 Check key features and full product description here
Summary of Features:
Infineon's TC3X7 (TC397) AURIX™ TC3xx Controller in LFBGA-292 Package
FlexRay™ 1) Transceivers
High Speed CAN Transceivers (CAN-FD capable)
USB to UART bridge
Ethernet Gigabit PHY
Serial Eeprom
LIN Transceiver
Crystal 20MHz (default) or External Clock
USB miniWiggler JDS for easy debugging
8 Low Power Status LEDs
8-DIP switches for configuration
Access to all pins of controller
100mm x 160mm (EURO-Board)
Connectors:
The TC3X7 TriBoard offers a wide variety of connectors:
Standard power connector
Micro USB connector for ASC Interface (ASC0) and miniWiggler
RJ45 connector for Ethernet
16-pin header for JTAG interface (OCDS)
2 x 10-pin header for DAP and DAPE (DAPE only usable on Emulation Device)
10pin (2x5) Header for LIN Transceiver (LIN)
2 x 10pin (2x5) Header for CAN High Speed Transceiver (CAN0 and CAN1)
2 x 10pin (2x5) Header for FlexRay™ (ERAY-A and ERAY-B)
Four 80-pin connectors (male) + four 80-pin connectors (female) with all I/O signals
Optional ETK connector
Optional 6pin (IEEE1394) Socket for HSCT
Optional Aurora connector (only with Emulation Device)
Components:
Infineon's Multi Voltage Safety Micro Processor Supply TLF35584QV
Three LEDs to validate power supply (5Volt / 3,3 Volt / 1,25 Volt)
LED indicating safe state signal 2 from TLF35584
LED indicating /HDRST (ESR0) active state
LED indicating activ miniWiggler JDS
LED switched via DAS software
2 x Infineon's FlexRay™ Transceiver TLE9221SX
2 x Infineon's High Speed CAN-Transceiver TLE9251VSJ
Infineon's LIN-Transceiver TLE 7259-3GE
USB to UART bridge FT2232HL (FTDI)
Single Port Gigabit Ethernet PHY PEF7071 (LANTIQ)
8 general purpose LEDs
Features:
2K I 2C Serial Eeprom with EUI-48™ 1) Node Identity (MICROCHIP)
Reset switch
Enable switch
Generic switch
4-pin Dip switch
Benefits:
With our software toolchain, this TriBoard offers a quick hands on and evaluation of Aurix™ TC3xx family.
Target Applications:
Automotive
Sensor Fusion
Chassis
eVehicles
Powertrain
Industrial
TC397_S_TRB TriBoard
Order Nr.: KIT_A2G_TC397_S_TRB
Price: 1.500,- EUR
Applikationen
Access to complete AURIX™ technical documentation including data sheets, app notes, etc.: