Nutzfahrzeuge, Bau- und Landmaschinen
Überblick

Mit dem wachsenden Anspruch bezüglich höherer Kraftstoff- und Betriebseffizienz wird die Elektrifizierung von Nutzfahrzeugen, Bau- und Landmaschinen eine attraktive Option Hier lassen sich zwei wesentliche Vorteile erzielen: die Einhaltung strengerer Gesetze für Emissionswerte und energetischen Wirkungsgrad sowie höhere Effizienz und Erträge in bestehenden Prozessen. Durch die Entscheidung für hybride oder voll elektrische Antriebe können -Betreiber den Kraftstoffverbrauch und die CO2-Emissionen senken oder sogar vollständig eliminieren. Darüber hinaus benötigen Elektroantriebe weniger Wartung, sie sind zuverlässiger und produktiver.
Infineon – Ihr Partner für Nutzfahrzeuge
Mit bewährter Fachkenntnis im Bereich und einem umfassenden Portfolio an robusten, hochwertigen Steuer- und Leistungshalbleitern können Sie mit Infineon erfolgreiche Konzepte für Nutzfahrzeuge, Bau- und Landmaschinen entwerfen. Um mehr über die entsprechenden Lösungen zu erfahren, wählen Sie eines der angebotenen Themen aus der Liste.
Mit vielen Anwendungen kann Infineon bestehendes Know-how innerhalb von Fahrzeugen und in deren Umfeld aufgreifen und nutzbar machen
Highlights
Podcast4Engineers #2: Elektrisches Fahren – Mobilität für Waren und Personen (EN)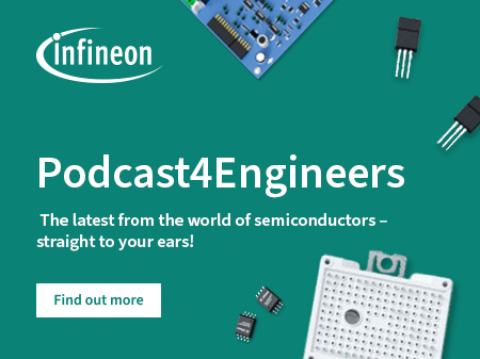 E-Mobilität ist ein viel umfassenderes Thema, als Sie vielleicht glauben. Unser Experte zeichnet in diesem Podcast ein Bild der elektrischen Mobilität, die von kleinen Hoverboards für Freizeitaktivitäten bis hin zu riesigen Muldenkippern und vielen Fahrzeuganwendungen dazwischen reicht. In diesem Podcast erfahren Sie, wo Infineon bei diesem Thema ins Spiel kommt, um die Transportbranche unkomplizierter, sicherer und grüner zu machen.
Trainings
Webinars
With proven expertise and a comprehensive portfolio of robust, high-quality control and power semiconductor solutions, Infineon helps you engineer successful and reliable designs for commercial, construction and agricultural vehicles.
Key Takeaways:
1.Understand how Infineon responds to the trends in the CAV market
2.Get an overview of different applications: Main drive, auxiliaries
3.Learn about the system solutions with power modules, gate drivers, microcontrollers AURIX™, sensors, and more
Gain a deeper insight into Infineon's sensors, microcontrollers and memories that serve one of the megatrends in the commercial, construction and agricultural vehicle (CAV) market: electrification.
Key Takeaways:
1. Learn how Infineon responds to the trends and challenges in the electrification of the CAV market
2. Explore Infineon's power modules for hybrid and electric solutions as well as our sense and actuate portfolio
3. Examine how we serve applications with increasing demand of semiconductors in the industry